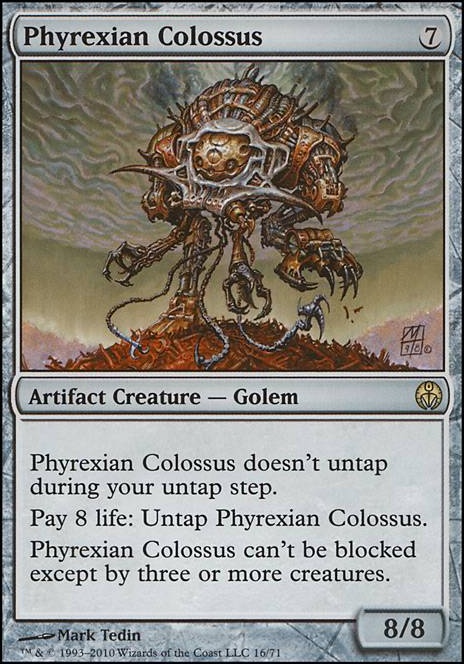 Legality
5 years ago
I'm going to suggest you change this completely, here it goes! :)
Golems. Big golems. Go golem tribal like Altar Golem, Colossus of Sardia, Platinum Emperion, Phyrexian Colossus, Mage-Ring Responder, Colossus of Akros, etc.
But a weakness is many do not untap...but wait! Artifacts like Magewright's Stone, Voltaic Construct, Thousand-Year Elixir, Clock of Omens, Voltaic Key, etc. do just that. More fun though can be had with Threaten effects that you can use either on opponents' stuff or to untap your own. Interactive decks few!
A fun twist would be to have Bosh, Iron Golem out + Hijack, etc + Liquimetal Coating/Silverskin Armor to fling any of their creatures back into their faces.
And there's lots of fun utility golems to abuse. Ancestral Statue can bounce a big guy who attacked and just recast cheaply due to Rakdos' ability. Solemn Simulacrum is a staple. Beast of Burden takes advantage of token decks. Glass Golem's art looks wicked ;). Precursor Golem can add in some 1-shot draw spells like Crimson Wisps to draw a ton if lucky. Sundering Titan for fun control.
Feldon of the Third Path, Daretti, Scrap Servant, Kurkesh, Onakke Ancient, Slobad, Goblin Tinkerer, Tuktuk the Explorer, and Urabrask the Hidden are all legendaries that play nicely with a theme like this I think.
So keep your burn/damage to activate Rakdos' ability, add some haste enabler like Fervor so your golems can attack upon entering, include fun enchantments like Blood Mist, Flameshadow Conjuring, and Mana Echoes.
Load more