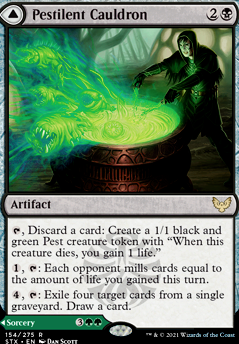 Back:
Restorative Burst
Pestilent Cauldron
Artifact
, Discard a card: Create a 1/1 black and green Pest creature token with "When this creature dies (is put into the graveyard from the battlefield, tokens are put into the graveyard before they cease to exist), you gain 1 life."
, : Each opponent mills cards equal to the amount of life you gained this turn.
, : Exile four target cards from a single graveyard. Draw a card.
Latest Decks as Commander
Pestilent Cauldron Discussion
2 months ago
Cards you should consider: Bone Shards, Bontu the Glorified, Bloodthrone Vampire, Plumb the Forbidden, Inquisition of Kozilek, Priest of Forgotten Gods, Severed Strands, Rankle, Master of Pranks, Fatal Push, Malakir Rebirth  Flip, Callous Bloodmage, Sedgemoor Witch, Hunt for Specimens/Cram Session with Necrotic Fumes/Pest Summoning, Pestilent Cauldron  Flip, Shamble Back, Valentin, Dean of the Vein  Flip, Westvale Abbey  Flip, Vampire of the Dire Moon