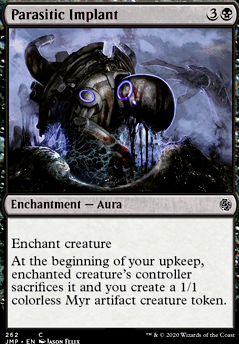 Parasitic Implant
Enchantment — Aura
Enchant creature
At the beginning of your upkeep, enchanted creature's controller sacrifices it and you create a 1/1 colorless Myr artifact creature token.
Latest Decks as Commander
Parasitic Implant Discussion
6 months ago
It doesn't produce a Xenomorph by any stretch of the imagination, but Parasitic Implant is a card..
4 years ago
Thank you for the feedback Red_X. I changed the tag to casual. I got rid of the non-legal cards anyways except for Parasitic Implant since (I think) it's the only card I have that can help me get rid of indestructible.
The deck is trying to do two things: A: Get treasures for Revel in Riches (I think you missed it, there are 3 in the deck) and B: force my opponent to discard cards since I have two Raiders' Wake in there. I have a decent amount of pirates in there. Do you think I should throw in a Pirate's Cutlass or two?
I have removed most of the cards that do not help me directly or indirectly achieve one of these two goals. What do you think so far?
5 years ago
Also Genesis Chamber, Glaze Fiend, Scrapheap, Summoning Station, Beacon of Unrest, Hangarback Walker, Parasitic Implant, Kuldotha Forgemaster, Pentavus, Scarecrone, Sculpting Steel, Wurmcoil Engine, and gravepact/ Dictate of Erebos
Most are permanents, but beacon of unrest is too good to ignore, at least as a suggestion.