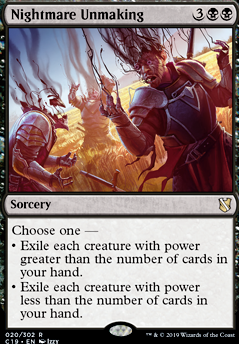 Nightmare Unmaking
Sorcery
Choose one —
Exile each creature with power greater than the number of cards in your hand.
Exile each creature with power less than the number of cards in your hand.
Browse Alters
Trade
Legality
| | |
| --- | --- |
| Format | Legality |
| 1v1 Commander | Legal |
| Canadian Highlander | Legal |
| Commander / EDH | Legal |
| Duel Commander | Legal |
| Highlander | Legal |
| Legacy | Legal |
| Leviathan | Legal |
| Oathbreaker | Legal |
| Vintage | Legal |
| Casual | Legal |
| Custom | Legal |
| Quest Magic | Legal |
Latest Decks as Commander
Nightmare Unmaking Discussion
1 month ago
Hey Walrighti, +1!
Congrats on your first deck! You have a lot of fun cards in here and it looks great! I imagine you want to tune and make it even more efficient so here are some ideas...
Add 3 categories: #Combo, #Lifegain, and #Evasion; and then sort your maybeboard the same way you've done your mainboard to easily rank your choices within a category (By "combo" I mean all your "if-then" cards like Trudge Garden that are slower and don't work by themselves). Remove #Creatures (most of them are #Combo).
Avoid most cards above 4 cmc... Willowdusk is fast and fragile, so play into that... Also, prioritize cards that can do 2 or more things or that give value on ETB... If you have pet cards that don't really fit and that hurt to cut, put them in a "I'll build that theme later" list.
...Always play at least 10 ramp spells under 3 cmc.
...Playtest and make sure Willowbark consistently makes a fatty (with evasion) before turn 6-7.
Here's another Willowdusk thread.
Happy building :)
2 months ago
absolutely Nightmare Unmaking is a fantastic wipe
But the wipes in question is for a white/green token weenie deck with alot of anthem and some populate effects

2 months ago
Y'all do the talkin', while my Nightmare Unmaking do the walkin', when it comes to creatures and boardwipes. One of the only recent 5 cmc wipes I considered for my decks.
1 year ago
Tragic Slip is a great budget removal and with the amount that stuff should be dying, should kill almost anything.
Drag to the Underworld should be a kill any creature for a BB.
Then their is also Terror. Simple and effective.
As far as board-wipe removal there is Nightmare Unmaking, Mutilate, and Dead of Winter. Though Dead of Winter isn't quite budget since you would need to change to all snow-covered swamps.
1 year ago
Owned:
Loyal Subordinate - Sepulchral Primordial - Ruinous Path (lol I have ten) - Go for the Throat - Virtus's Maneuver - Vona's Hunger - Ashes to Ashes - Murder - Murderous Cut - In Garruk's Wake - Grisly Spectacle

- Extinguish All Hope - Nightmare Unmaking - Yawgmoth's Vile Offering - The Eldest Reborn - Fated Return - Exhume - Indulgent Tormentor

- Kothophed, Soul Hoarder - Underworld Connections - Sign in Blood - Damnable Pact - Syphon Mind - Liliana's Contract - Promise of Power
Load more