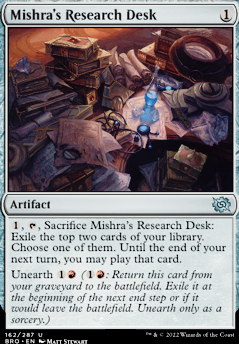 Legality
Mishra's Research Desk
Artifact
, , Sacrifice Mishra's Research Desk: Exile the top two cards of your library. Choose one of them. Until the end of your next turn, you may play that card.
Unearth (: Return this card from your graveyard to the battlefield. It gains haste. Exile it at the beginning of the next end step or if it would leave the battlefield. Unearth only as a sorcery.)
5 months ago
Hello.
You are running a lot of cards that make you draw and discard cards. I think that Squee, Goblin Nabob would fit in this deck well. You can discard him and get him back in your upkeep and you can do it over and over again.
In the recent sets WoTC printed a couple of really good impulse draw cards in red like March of Reckless Joy, Reckless Impulse, Light Up the Stage or Rob the Archives. If you have no way to use cards in your graveyard then these 4 are in my opinion better than all versions of Thrill of Possibility you play. If you want to keep playing all versions of Thrill of Possibility then I'd consider adding some cards that you can cast from your graveyard like for example Mishra's Research Desk. Endless Atlas could draw you lots of cards.
You're running 32 creatures so Hazoret's Monument will save you more mana than any mana rock and will also let you filter your hand like crazy. Lastly, Skullclamp, Idol of Oblivion and Terrain Generator seem to have good synergies with all the mountains you have and all the 1/1 tokens this deck can produce. Heraldic Banner - for just 1 more mana you get a mana rock and an anthem for your go wide strategy.
Hope you find some of the suggestions helpful.