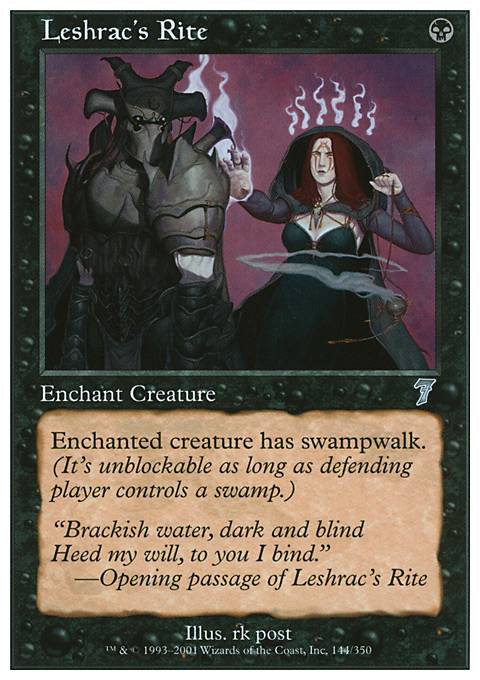 Leshrac's Rite
Enchantment — Aura
Enchant creature
Enchanted creature has swampwalk.
Browse Alters
View at Gatherer
Legality
| | |
| --- | --- |
| Format | Legality |
| Vintage | Legal |
| Duel Commander | Legal |
| Tiny Leaders | Legal |
| Highlander | Legal |
| Legacy | Legal |
| Penny Dreadful | Legal |
| Oathbreaker | Legal |
| Casual | Legal |
| Leviathan | Legal |
| Magic Duels | Legal |
| Noble | Legal |
| 1v1 Commander | Legal |
| Commander / EDH | Legal |
| Canadian Highlander | Legal |
| 2019-10-04 | Legal |
| Unformat | Legal |
Leshrac's Rite occurrence in decks from the last year
Commander / EDH:
All decks: None%
RBW (Mardu): None%
Leshrac's Rite Discussion
3 years ago
I'm not sure about creatures but Urborg, Tomb of Yawgmoth is my obvious first thought. Blanket of Night is a cheap Enchantment that has the same effect. I will remind you, redundancy is important. You don't want to lose your ability to Swampwalk because your opponent removes Urborg.
Contaminated Ground, Evil Presence, and Tainted Well all provide Swampwalk but only for one opponent each. Leshrac's Rite gives one of your creatures Swampwalk.
Korlash, Heir to Blackblade is a "Swamps Matter" Commander, although I'm not sure how good he will perform. Zombie Master can be ran to give him Swampwalk as well. Squelching Leeches and Nightmare are both creatures that benefit from a lot of Swamps.
Personally I run a Ghoulcaller Gisa deck that is Zombie Tribal. The Tribal theme is primary, while Swampwalk is just a hopeful Win Condition.
I figure you also want as much land ramp as you can get, especially if you are running Korlash as your Commander. Black has some issues with this but Liliana of the Dark Realms is good. I can't think of much else outside of Burnished Hart and Expedition Map.
You will definitely want to run Cabal Coffers, I suggest using all Snow-Covered Swamp and Extraplanar Lens to double the mana from each of your Basics, while not giving your opponents any benefit. Crypt Ghast and Magus of the Coffers are also good. Lastly, Lashwrithe and Nightmare Lash are both awesome.