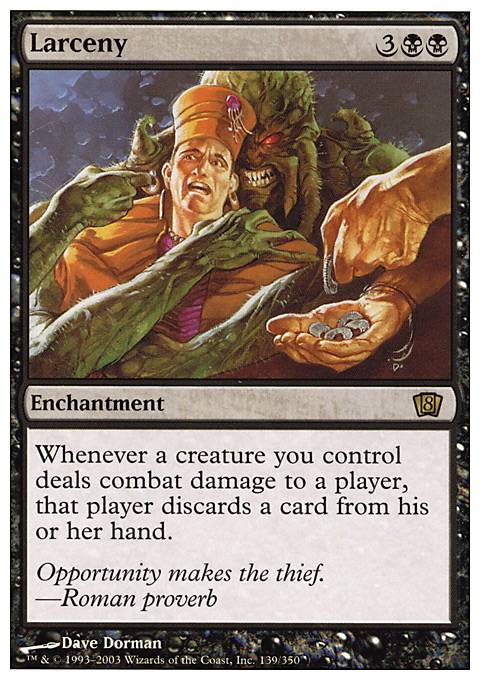 Larceny
Enchantment
Whenever a creature you control deals combat damage to a player, that player discards a card.
Latest Decks as Commander
Larceny Discussion
4 months ago
I kinda feel like it is a bit too self-contained. Like how does this really incentivize you to build around him? I mean you can just run discard to make him a hand denial engine ( Sadistic Hypnotist says hi), but how do you really build around his Zombie making abilities? Then you would need cards like Howling Mine and Font of Mythos , Anvil of Bogardan to grant the opponents cards you can later have them discard to gain the benefits. However you can only activate the ability as a sorcery, so they get their turn to get rid of their cards and thus deny you more tokens.
He seems to be designed as a token generator but comes more across as a discard engine that keeps players low on gas. Stax can work in competitive environments, but I find the creative possibilities around the card a bit lacking.
I think the concept could be fun akin to Waste Not and Bone Miser , but I think it would be more fun/engaging if you could build more around him.
Just airing some ideas or concepts for a direction the card could take.
Vexxus, Lich King
Legendary - Zombie Knight Wizard
Attacking Zombies you control have Deathtouch.
Whenever a creature you control deals combat damage to a player, you may have that player draw a card then discard a card, then you do the same.
Whenever an opponent discards a card, create a tapped 2/2 black Zombie creature token.
6/6
---
Alternative on the discard trigger:
Whenever an opponent discards a card, if the discarded card was a land card, that player loses 3 life. Otherwise you create a tapped 2/2 black Zombie creature token.
---
I changed the cost to 2 colorless and 4 blacks. This better allows colorless mana rocks, cost reductions and splashing in other colors than mono-black, and there's 6 pips to Devotion, which does seem a bit excessive if for no other reason than Gray Merchant of Asphodel .
I added Knight to his subtypes to allow more broad synergies with say Haakon, Stromgald Scourge or within the 99 in a Knight themed deck.
Giving all your Zombies deathtouch makes combat with you a real pain. Only giving it to attacking Zombies makes you less problematic to attack into but if the opponent wants to stop the onslaught of zombies, they may need to trade into some zombies on the defense or deal with your Commander. I know Death Baron exists, but he doesn't both produce the zombies and make them troublesome.
I was unsure about the enabling ability. The active ability doesn't require you to do anything with the Lich but sit back and slowly drain your opponents of their cards and create a mass army of zombies. It also presented a limit on the zombie generating ability.
I wanted to make it scalable so you could actually amplify the effect and build around him. However just slapping Larceny on a body with a Waste Not benefit seemed a little strong on the stax front, which could be a frustrating aspect of playing against this Commander.
If you instead make it a looting effect, there's a guarantee that it triggers the beneficial discard trigger and it would not be card disadvantage to the opponent, so it can be allowed to be "stronger" because that opponent isn't locked out. Instead they are actually getting a benefit in terms of card selection. This means that opponent can much quicker assemble an answer to your horde of zombies. To counter act this, you choose if the looting happens AND if it does, you get in on it.
Now it is true that you could potentially accrue a lot of zombies that, given they get through could double each round and you can quickly swarm the board with zombies. However that is not far from what Najeela, the Blade-Blossom can do. And this Commander costs 6 MV (mana value) and is mono colored.
It is possible that the discard trigger should be dependent on the cards discarded - making the opponent have a choice in what happens. Either they lose lose lands and take additional damage or they lose gas and you get more bodies.
Additionally it could be considered to let the tokens enter untapped, since they don't have Deathtouch through the Commander when on the defense.
This is generally taking the idea of the hand denial and coupling it with the specter benefits for a more Voltron style support with Zombies as a more defensive tool.
Vexxus, Lich King
Legendary Creature - Zombie Knight
Deathtouch, Menace
Whenever Vexxus deals combat damage to a player, that player discards two cards. Then put two +1/+1 counters on Vexxus for each player with no cards in hand.
Whenever an opponent discards a card, create a 2/2 black Zombie creature token.
, sacrifice a Zombie: Vexxus gains Indestructible until end of turn.
3/6
Vexxus, Lich King
Legendary Creature - Zombie Wizard
At the beginning of each player's end step, that player discards a card.
Whenever an opponent discards a card, create a tapped 2/2 black Zombie creature token.
, sacrifice a creature: choose one --
Target player loses 3 life.
Each player draws a card and loses 1 life.
Target creature gets -2/-1 until end of turn.
3/5
7 months ago
Looks good. You might consider these: Coat of Arms , Konda's Banner , Heraldic Banner , Hall of Triumph , Obelisk of Urd , Metallic Mimic , Adaptive Automaton , Larceny , Ajani's Welcome , Bastion of Remembrance , Flickering Ward , Shimmering Wings , Mark of Eviction , Sigil of Sleep , Pentad Prism , Coastal Piracy
8 months ago
You might like these: Larceny, Coastal Piracy, Bident of Thassa, Inkfathom Infiltrator, Syr Konrad, the Grim, Bloodchief Ascension, Spark Double, Animate Dead, Memory Plunder, Spelltwine, Havengul Lich, Fireshrieker, Cloak and Dagger, Bruvac the Grandiloquent, Prickly Boggart, Thada Adel, Acquisitor
1 year ago
Ah, I have piloted a mono-black discard deck for quite the number of years. I have Chainer, Dementia Master

at the helm myself, as he is a rather powerful card when everyone's hands are empty, thus he reigns unanswered. Therefrom, a great amount of methods may be used to win.
Tinybones is less of a finisher itself, more so a value engine. As such, I would recommend possessing a lower curve to take advantage of the card draw and more potent finishers within the deck to hent for victory. Also, having card draw outside of the commander would grant a better backup plan. A discard deck's goal is to empty each opponent's hand and win by going unthreatened. If no players have cards to discard, Tinybones cannot provide draw.
The changes I would make are more instants so you kill things once they resolve as opposed to waiting a full turn, swifter discard in the early game to make your commander more effective, stronger finishers for the sake of ending the game betime, and just cutting some cards.
So, first, there are some things I would remove.
Alright. With that out of the way, I may suggest other cards.
So, early game discard. Mind Rake and Delirium Skeins are each great, for they take card from every player in the first few turns of the game.
Let's add some better kill spells: Snuff Out, Victim of Night, Go for the Throat, Hero's Downfall, Drag to the Underworld, and Murderous Rider.
Wraths are a cruciality for slower strategies such as this, for aggressive strategies such as Alesha or Tymna. You should add any of Massacre Girl, Damnation, or Massacre Wurm.
Upon card draw, you have none outside of the Trinket Thief, Rankle, and Geth's Grimoire. I'd add any of Phyrexian Arena, Sign in Blood, Underworld Connections, and Dread Presence. Necropotence may seem as if it negates the strategy, but it is always worth it.
Lightning Greaves just seem great.
Dark Ritual and Cabal Ritual allow for turn one Pit or Mists, easily providing much value with your commander on turn two.
Expedition Map allows you to assemble your land combos with Cabal Coffers and Urborg. Always nice.
Nirkana Revenant is an option for the sake of late-game ramp, giving much for Torment of Hailfire.
Now, for the finishers I have many. Do note that these are meant to be played when people haven't any cards in hand, hence lacking answers for these once on the field. Sheoldred, the Whispering One grants value from each player's bin whiles eating at their board. Abhorrent Overlord offers a swarm of flyers to end the game. Grave Titan is much the same. Archfiend of Despair goes well with Tinybones's second ability. Though I am not too fond of it, Archfiend of Spite offers much. Geth, Lord of the Vault hents the opponent's graveyards to swarm the board. Kokusho, the Evening Star is a massive threat that harms upon death. Kothophed allows for a quite a bit of card draw. Lord of the Void is always fun. Lastly, Gray Merchant of Asphodel does so much every time it hits the field.
Of course, I'd add more ramp and reanimation. Mind Stone, Arcane Signet, Charcoal Diamond, and Lake of the Dead are great for ramp. Animate Dead, Reanimate, and Dread Return are fine ways to get stuff from anyone's yard, save for the Return.
That shall be all from me. Do enjoy your day!
1 year ago
Board wipes that seem "on theme" and white "ramp" to consider. Kaya's Wrath Fumigate Retaliate Austere Command Decree of Pain Martial Coup Merciless Eviction Descent of Dragons Angel of the Dire Hour Magister of Worth Sunblast Angel Boreas Charger Oreskos Explorer Surveyor's Scope Solemn Simulacrum Sword of the Animist Verge Rangers Smothering Tithe Sword of Feast and Famine Dowsing Dagger  Flip
Queen Marchesa doesn't have a clear single way to build so you have lots of options. However, I feel like said you want to play her like the Kween she is and create a royal court full of politicin' and group interaction to make all the boys whine. I don't think you want to discourgage people from taking the monarch from you, more encourage them to swing others IE: NO Ghostly Prisons, YES Teysa effects. Punish the ones who swing you only after the fact and reward the ones who swing others. There is a lot listed!
Politic theme links to Scryfall searches Monarch, Will of the Council, Council's Dilemma, Join Forces, Curses, Tempting offer, Goad
You will also want to get retake the throne each turn and lets face it, the Assasin's won't always get through Dauthi Embrace Dauthi Trapper Nether Shadow Nether Traitor Soltari Visionary Changeling Outcast Tormented Soul Break Through the Line Ferropede Gingerbrute Key to the City Whispersilk Cloak Trailblazer's Boots Zhang He, Wei General Yellow Scarves Cavalry Wei Night Raiders Wei Scout Xiahou Dun, the One-Eyed Lu Bu, Master-at-Arms Guan Yu, Sainted Warrior Shadow Alley Denizen
Finally here are some other fun interactions befitting the royal court. Crown of Doom Kor Haven Cathars' Crusade Electropotence + Pandemonium (Nasty with deathtouch) Field of the Dead Mentor of the Meek In the Web of War Mace of the Valiant Ogre Battledriver Orc Sureshot Mathas, Fiend Seeker

Master of Cruelties Anya, Merciless Angel Tree of Perdition Alesha, Who Smiles at Death Ashling, the Extinguisher Azra Oddsmaker Aurification Bloodforged Battle-Axe Contested War Zone Thaumatic Compass  Flip Dread Elbrus, the Binding Blade  Flip Iroas, God of Victory Aurelia, the Warleader Gisela, Blade of Goldnight Five-Alarm Fire Hellrider Hixus, Prison Warden Larceny Necropolis Regent No Mercy Phage the Untouchable Quietus Spike Skeleton Key Throat Slitter Varchild, Betrayer of Kjeldor Vraska, Scheming Gorgon

Scourge of the Throne Akroan Horse Captive Audience Goblin Spymaster Forbidden Orchard Clackbridge Troll Hunted Dragon Hunted Lammasu Hunted Horror
Theme directions to explore? Lifegain to stay above the swings? Angelic Chorus Answered Prayers Anointer Priest Authority of the Consuls Ayara, First of Locthwain Daxos, Blessed by the Sun Healer of the Pride Impassioned Orator Pious Evangel  Flip Soul's Attendant Soul Warden Archangel of Thune Suture Priest Ajani's Welcome Dawn of Hope Deathgreeter Exquisite Blood Epicure of Blood Falkenrath Noble Karlov of the Ghost Council Noble Purpose Righteous Cause Sanguine Bond Searing Meditation Seraph Sanctuary Serene Steward Shattered Angel Spirit Loop Sun Droplet Vizkopa Guildmage Well of Lost Dreams Alhammarret's Archive Licia, Sanguine Tribune

Ayli, Eternal Pilgrim Eternity Vessel Chalice of Life  Flip Resolute Archangel Storm Herd Felidar Sovereign Divinity of Pride Serra Ascendant
Aristocrats of the Court (slow life drain strategy)? Bastion of Remembrance Corpse Knight Impact Tremors Purphoros, God of the Forge Blood Artist Zulaport Cutthroat Outpost Siege Bontu's Monument Brutal Hordechief Campaign of Vengeance Cliffhaven Vampire Cruel Celebrant Kambal, Consul of Allocation Polluted Bonds Retreat to Hagra Vindictive Vampire revenge Sorin, Grim Nemesis Judith, the Scourge Diva Stalking Vengeance Syr Konrad, the Grim
1 year ago
You might like these: Starfield of Nyx , Seal of Cleansing , Lunar Force , Bident of Thassa , Coastal Piracy , Kindred Discovery , Larceny , Distant Melody , Gravitational Shift , Shared Triumph , Crescendo of War , Flickering Ward , Viridian Longbow , Psionic Gift
Load more