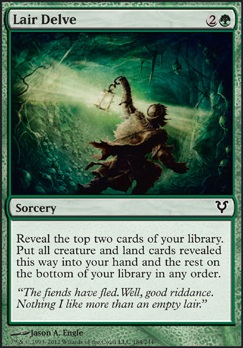 Lair Delve
Sorcery
Reveal the top two cards of your library. Put all creature and land cards revealed this way into your hand and the rest on the bottom of your library in any order.
Browse Alters
Legality
| | |
| --- | --- |
| Format | Legality |
| 1v1 Commander | Legal |
| Block Constructed | Legal |
| Canadian Highlander | Legal |
| Commander / EDH | Legal |
| Duel Commander | Legal |
| Highlander | Legal |
| Legacy | Legal |
| Leviathan | Legal |
| Limited | Legal |
| Modern | Legal |
| Oathbreaker | Legal |
| Pauper | Legal |
| Pauper EDH | Legal |
| Tiny Leaders | Legal |
| Unformat | Legal |
| Vintage | Legal |
| Casual | Legal |
| Custom | Legal |
| Quest Magic | Legal |
Latest Decks as Commander
Lair Delve Discussion
7 months ago
It looks like your main goal is to stick a creature and then buff it as much as possible with +1/+1 counters. To improve the strength and consistency of the deck, I recommend cutting anything that isn't working towards that end (unless it's very efficient.) I'd identify those cards as Druid's Deliverance, Sundering Growth, Bountiful Harvest, Bump in the Night, Lair Delve, Blood Reckoning, Tablet of the Guilds, Primal Clay, Trestle Troll, and maybe Phylactery Lich (depending on how many artifacts you end up running in the end.) I'd also suggest swapping out Intimidation to stay modern legal, possibly with something like Bellowing Tanglewurm if you really really want the evasion. Your strongest cards that I'd want additional copies of are Abrupt Decay (budget permitting), Ring of Xathrid, Undying Evil, Slitherhead, and Death's Presence (assuming your meta is slow enough to run it.) It also looks like Tormented Soul is a critical piece that benefits the most from growing big, so having redundancy for it seems like a good idea. Changeling Outcast, Gingerbrute, and Silhana Ledgewalker could all be fine targets. For +1/+1 synergy, you have scavenge staples like Varolz, the Scar-Striped, Corpsejack Menace, and Lotleth Troll along with more general options like Polukranos, Unchained, Winding Constrictor, Hardened Scales, Hydra's Growth, Rishkar, Peema Renegade, Scavenging Ooze (which is particularly good in a sideboard), Drana, Liberator of Malakir, Hunger of the Howlpack, Forced Adaptation, and Llanowar Reborn. Finally, some cards I've had success with in graveyard-focused decks include Tragic Slip, Satyr Wayfinder, Grisly Salvage, Splinterfright, and Fauna Shaman. Let me know if you have any questions and good luck with your build!