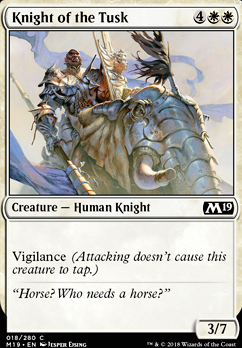 Knight of the Tusk
Creature — Human Knight
Vigilance (Attacking doesn't cause this creature to tap.)
Browse Alters
View at Gatherer
Legality
| | |
| --- | --- |
| Format | Legality |
| Tiny Leaders | Legal |
| 1v1 Commander | Legal |
| Magic Duels | Legal |
| Canadian Highlander | Legal |
| Vintage | Legal |
| Modern | Legal |
| Highlander | Legal |
| Penny Dreadful | Legal |
| Block Constructed | Legal |
| Pauper | Legal |
| Pauper EDH | Legal |
| Pioneer | Legal |
| Leviathan | Legal |
| Legacy | Legal |
| 2019-10-04 | Legal |
| Historic | Legal |
| Duel Commander | Legal |
| Oathbreaker | Legal |
| Unformat | Legal |
| Casual | Legal |
| Commander / EDH | Legal |
Knight of the Tusk Discussion
1 year ago
Tweaks to Lands
The most important thing to change first is the mana base. You might be able to get away with less than 24 lands ultimately, maybe 23 or even 22 if you lower your mana curve, but I'd start with the default of 24 and tweak from there.
In addition to adding lands, switch out the 4x Azorius Guildgate for Tranquil Cove — it's strictly better because of the lifegain.
You might also consider more mana fixing than a single dual playset, such as fetchlands ( Evolving Wilds ) or Ash Barrens . There's also Azorius Chancery . Since you run so many creatures, you might also be able to benefit from Holdout Settlement .
Other than mana-fixing, some people also like cycling lands, as they can help you draw more useful cards when you get mana-flooded (like Lonely Sandbar and Secluded Steppe ). For control decks, Halimar Depths is a useful way to set up your draws. You can opt for incidental lifegain on lands like Kabira Crossroads , but I'd honestly stick with basic Plains, because you don't want too many lands that enter tapped.
I noticed that more than one of your cards had an effect like "target creature an opponent controls doesn't untap during its controller's next untap step". If you wanted to focus you deck on that type of strategy, you could consider Skyline Cascade .
Possible Cuts
So what to cut to make room for 8 more lands?
I'd cut most of the creatures that are considered "vanilla" or "French vanilla", i.e. have no abilities or only basic keyword abilities like Flying or Lifelink. You want as many of your creatures as possible to DO something other than just being a warm body. So:
-1 Concordia Pegasus
-1 Coral Commando
-1 Daybreak Chaplain
-1 Humongulus (also, you want 5+ mana spells to have more of an impact than this)
-1 Knight of the Tusk (same deal as with Humongulus)
-1 Mesa Unicorn
-1 Sky Ruin Drake (same deal as with Humongulus)
-1 Talon Trooper

You could also considering cutting Sunspring Expedition , since effects that solely grant lifegain are generally considered not worth running (incidental lifegain, on the other hand, can be great).
I'd also consider cutting Nimbus Wings , since most of your creatures already have flying.
Game Plan
After making some of the above cuts and additions, really what you want to think about is what is your deck trying to DO. You want to have a unified strategy.
For instance, right now you have creatures like Civic Stalwart , Haazda Officer , Pegasus Courser , and Vedalken Mesmerist that want you to be on the offensive. But you also have creatures with low power / high toughness (several of the ones I suggested you cut, actually), Syndicate Messenger (which makes for a great blocker), and Wall of Mist that want your deck to be defensive.
A couple cards can swing both ways — AEther Adept and Chillbringer can either clear the board for your attacks, or they can slow down your opponent defensively.
I think before we can make further suggestions, you'll need to better nail down the direction you want to take the deck — offensive flyers? high-toughness blockers and other stalling techniques to get to your win-con?