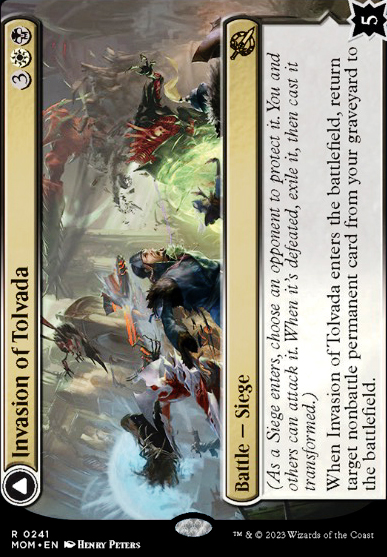 Back:
The Broken Sky
Flip
Legality
Invasion of Tolvada
Battle — Siege
(As a Siege enters, choose an opponent to protect it. You and others can attack it. When it's defeated, exile it, the cast it transformed.)
When Invasion of Tolvada enters the battlefield, return target nonbattle permanent card from your graveyard to the battlefield.
5 months ago
Maybe board list:
Stuff I want in
7 months ago
Thanks for the suggestions! Invasion of Tolvada  Flip looks good, could swap out Ophiomancer, but down side is it is endstep, worth thinking about.
Thalisse is in the maybe board atm i think, very good generation bit 5cmc is a tricky one.
The card draw options definitely could be worth consideration too, i do think this deck could get nerfed if the general is removed too often!
Wow, hadn't seen Clever Concealment, curse wizards and the never ending train of new cards being printed. I can't keep up!