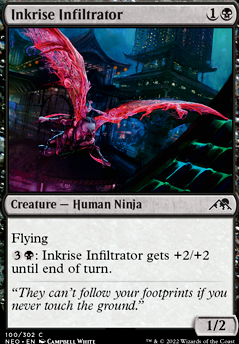 Legality
2 months ago
@Agieryna Apologies for taking so long to reply! I play edh less frequently these days, so I didn't have enough reps with my new Yuriko list to get back to you until now.
Starting with the ninjas, I've been very impressed by Moon-Circuit Hacker and Prosperous Thief; They have powerful combat damage triggers and cheap ninjutsu costs. I've also been liking Inkrise Infiltrator and Thousand-Faced Shadow which are easy to hard cast and evasive. I ended up cutting Dokuchi Silencer because I often didn't have a creature I wanted to discard, and if there is a problematic creature on board I'd rather just use a removal spell. I also found Nashi, Moon Sage's Scion pretty underwhelming, but I think it's reasonable to include if you play it with the Enter the Infinite/Thassa's Oracle combo.
I've also been pleased with Memnite and Phyrexian Walker. I didn't play them before because they don't have any evasion, but the tempo advantage they provide is so much higher than a 1-mana enabler that they're worth including. Network Disruptor has been amazing: A 1/1 flyer that also taps down a blocker is really powerful.
As for the evasion package, Cover of Darkness is much stronger than it used to be due to the higher number of playable ninjas, same goes for Wonder. And like you mentioned, Entomb is strictly for grabbing Wonder. I haven't run into the situation where I don't have a target for Entomb yet, but that's something you sign up for when you play a tutor that has only one good target.
I think that covers most of the new changes, let me know if you have any other questions/comments!
6 months ago
February 7, 2022- Continuing Thoughts on Neon Dynasty Spoilers
Once again, I'll post my thoughts on some additional ninjas as well as a few non-ninjas that may be relevant to the deck.
First of all, the underwhelming
1) Inkrise Infiltrator He's an evasive ninja I guess. Even without ninjutsu he'd be playable if he was a one-drop, but paying two just isn't worth a slot. We also have to remember that 2cmc is still bad off the top. We always prefer a higher cmc with a heavily discounted ninjutsu ability. If its going to be an enabler it needs to be one.
2) Mukotai Ambusher What's good here is that it does four off the top but can come down turn two with ninjutsu. Its otherwise a vanilla lifelinker though, which makes it an otherwise underwhelming choice. The fact that it isn't enabled by Tetsuko Umezawa, Fugitive just aggravates this.
Second, the Promising
1) Nashi, Moon Sage's Scion This is essentially a second copy of Fallen Shinobi that gets more cards, but you can only use one of them and have to pay for it in life if it has a cmc. This is definitely very powerful and something that will scare your opponents. I have to say though, I'm not always a fan of random effects like this, and we aren't in a deck where paying life is usually a great idea. This one is interesting, but time will tell if we want to include it.
2) Dokuchi Silencer This card is much better, and is likely to at least be tested. Single-target interaction is something we need to be running in much higher quantities in commander today, and getting a two-for-one by stapling removal to a ninja is one reason why Mistblade Shinobi and Throat Slitter are two of our best cards. Yuriko usually makes it so we have way more cards than we can use, so the cost of discarding a card isn't much of a drawback here. The only thing that would make this better is if it had a higher cmc. 2cmc is great for its ninjutsu entry, but I wish it would do four or five off the top. Still, beggars can't be choosers in this category, so it will probably make it in.
3) Moon-Circuit Hacker Ninja of the Deep Hours is perhaps the most famous ninja of all time, and this is a discount version that comes down for one, except it loots if it didn't enter the battlefield this turn. That alone might make it good enough, as 1cmc ninjutsu abilities are rare indeed, and helpful for early game tempo. We generally don't mind looting as we're discarding cards do to overdrawing from Yuriko anyway, so a little extra hand sculpting is great. The biggest drawback is that Ninja of the Deep Hours does four off the top whereas this does only two. That is a limitation. We always have to remember that as far as ninjutsu creatures goes, the higher cmc the better as we'll rarely if ever cast it for cmc, and we might as well be doing damage. Still, the benefits are substantial, and it certainly could serve as an early enabler if we don't get a one drop.
4) Prosperous Thief This is where we hot the boundary between promising and truly great, and I suspect this will make it into the latter category, though I'll reserve my optimism for now. Earlier we mentioned how there is an early game tension between getting out ninjas early and ramping. Covert Technician is one possible answer to this dilemma, and this card is another. This can come down on turn two and make us temporary mana in the form of treasure tokens whenever a ninja hits. Nice On top of this, it comes down for two but does three off the top, so it narrowly fulfills that criterion. While Covert Technician gives us permanent ramp when it works, it can potentiall whiff if we are lacking an artifact, whereas this ninja will always be doing something for us. I suspect both will make the deck, and in any case I am really glad to see the design people at wizards seem to have a real knowledge of how one of their most popular commanders works.
The Truly Great
1) Moonsnare Specialist This is effectively a second copy of Mistblade Shinobi, one of my favorite cards in the deck, except that it can bounce our own stuff back as well, which is awesome utility. It comes down for three, which is well worth if if we are removing a problematic creature, and does four off the top. What's more, just like Mistblade Shinobi it will deter our opponent from casting big, scary creatures which we can bounce for three. This deck needs more ninja-based interaction, and this is a perfect example of how to do that.
Non-Ninja Items
1) Kaito's Pursuit While giving all your ninjas menace for a turn might seem like a good way to get through, I'd rather have a more expensive (and hence higher damage off Yuriko) but permanent mass evasion card like Archetype of Imagination any day. We don't need this.
2) Secluded Courtyard An Unclaimed Territory that works with Ninjutsu? Neat! The fact that its in a Kamigawa set with appropriate art is an added bonus. There is no reason not to play this.
3) Otawara, Soaring City This is a legendary land that comes in untapped, but which we can discard if we need some recurion. Its not lifechaning, but there is absolutely no downside here, so it goes in.
4) Takenuma, Abandoned Mire Ditto what we said about Otawara. There's no reason not to include this.