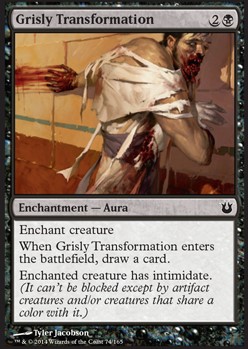 Grisly Transformation
Enchantment — Aura
Enchant creature
When Grisly Transformation enters the battlefield, draw a card.
Enchanted creature has intimidate.
Latest Decks as Commander
Grisly Transformation Discussion
5 months ago
Hey! I think that you should use more Auras that draws a card when they enter the battlefield (e.g. Angelic Gift for flying, Grisly Transformation for evasion to non-Orzhov creatures, Sage's Reverie ). A card like Chosen by Heliod probably work better than Holy Strength , for example.
A card like Skeletal Scrying may help you drawing cards. You can use Auras destroyed by the first time Killian is removed to fuel it.
What do you think about Hateful Eidolon ? It can be a voltron beater and help you draw cards if Killian is destroyed. Scarab of the Unseen can also help you recovering Auras from a creature that is about to be destroyed. This with Auras that draws a card when they enter the battlefield may be a good card advantage play.
Maybe a boardwipe or two can help you in some situations.
4 years ago
For skulk there is Behind the Scenes and Skeleton Key
For intimidate there is Nim Deathmantle, Gruesome Deformity, Grisly Transformation, and Executioner's Hood
For fear there is Cover of Darkness, Dirge of Dread, Intimidation, Ebony Charm, Profane Command, Sleeper's Guile.
There's also Odric, Lunarch Marshal who copies keywords, Odric, Master Tactician who allows you to declare no blockers, Akroma's Memorial which has flying and pro two colours, a kind of evasion.