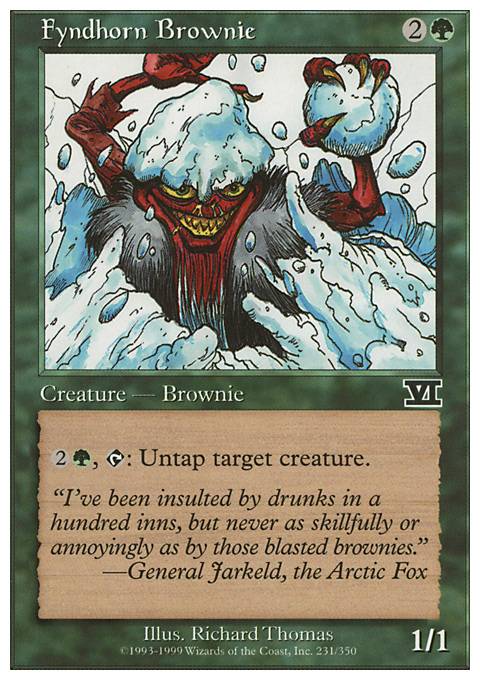 Fyndhorn Brownie
Creature — Ouphe
(2)(Green), Tap: Untap target creature.
Browse Alters
View at Gatherer
Legality
| | |
| --- | --- |
| Format | Legality |
| Leviathan | Legal |
| Unformat | Legal |
| Limited | Legal |
| 2019-10-04 | Legal |
| Commander / EDH | Legal |
| Duel Commander | Legal |
| 1v1 Commander | Legal |
| Pauper EDH | Legal |
| Oathbreaker | Legal |
| Casual | Legal |
| Vintage | Legal |
| Highlander | Legal |
| Tiny Leaders | Legal |
| Canadian Highlander | Legal |
| Pauper | Legal |
| Legacy | Legal |
Latest Decks as Commander
Fyndhorn Brownie Discussion
1 year ago
Hello eerie343,
We gave your request a lot of thought. Our main objective was to keep the spirit of the deck the same. So we decided to try and find replacements for the more expensive cards while keeping the original thought of the replaced cards alive. Naturally this would mean we would end up with cards that are either slightly less effective at what the expensive cards do, or they have a higher CMC, or both.
Almost all replacements we have chosen cost below 1 dollar. Some of the replaced cards are cards we do not own, so we decided not to post a new deck as we only do so when we own all the cards in it. So, here is a list of the replacements we would make in order to turn this into a less expensive deck:
We were not able to find suitable replacements (i.e.: cards that would do the same thing but be slightly less effective at it) for the following cards:
So if you have any suggestions for these, please let us know. For now, we hope we helped you a bit to make a cheaper version of our deck. Have fun brewing it!
Kind regards,
Mrs. and Mr. NV_1980
1 year ago
some inexpensive board wipes include Fated Retribution , Akroma's Vengeance , End Hostilities , Hallowed Burial , Phyrexian Rebirth , Rout , and Solar Tide .
Kamahl, Fist of Krosa is another way to turn opponent's lands into creatures. as is Quirion Druid and Verdant Touch
As for enabling your frostwaker there is Fyndhorn Brownie , Magewright's Stone , Niblis of the Breath , Puppeteer , and Puppet Strings . some of those are bound to be inexpensive, and adding in a handful of boardwipes and enablers for that strategy would lend itself to doing that strategy more often.