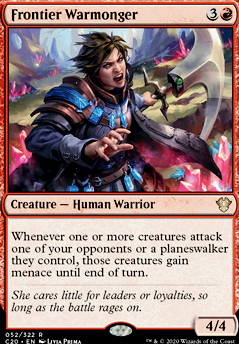 Frontier Warmonger
Creature — Human Warrior
Whenever one or more creatures attack one of your opponents or a planeswalker they control, those creatures gain menace until end of turn.
Browse Alters
Trade
Legality
| | |
| --- | --- |
| Format | Legality |
| Pre-release | Legal |
| Tiny Leaders | Legal |
| Frontier | Legal |
| Vintage | Legal |
| Pioneer | Legal |
| Commander / EDH | Legal |
| 1v1 Commander | Legal |
| Magic Duels | Legal |
| Brawl | Legal |
| Block Constructed | Legal |
| Standard | Legal |
| Historic | Legal |
| Arena | Legal |
| Canadian Highlander | Legal |
| Leviathan | Legal |
| Duel Commander | Legal |
| Unformat | Legal |
| Modern | Legal |
| Highlander | Legal |
| Legacy | Legal |
| Casual | Legal |
| Oathbreaker | Legal |
Frontier Warmonger Discussion
1 month ago
Hey Openil - I have been making some somewhat minor changes here and there as I'm testing a couple options, and one more major change, so I haven't changed the primer yet.
Most important - this shell has undergone some changes since I last tested Ad Nauseam + Sickening Dreams combo, so the most major change was me slotting those two as well as bringing Children of Korlis Fire Covenant and Phyrexian Unlife back into the fold. I tested 30 games and took notes/winrates, and now am taking ad naus / sickening dreams / children of korlis out for a couple instants/aikido cards and am going to test another 30 games. This is a more major change in the sense that having this combo slotted changes the way you pilot the deck since you know that the combo is relatively easy to get to and so it affects a lot of the decisions you make.
Aside from that, I'm currently testing Harsh Justice, Scroll Rack, Drannith Magistrate, and depending on when you last looked, at one point I also added Land Tax, Sensei's Divining Top, Scheming Symmetry, (all three of which have been great and are here to stay), and took out Frontier Warmonger before I even tested it really since it seemed slow and I needed the slot. To make room for some of these cards being tested, I've been adjusting my instants package and taking out things like Mirage Mirror (tough cut) and No Mercy (less useful pillowfort and perhaps redundant/high costed).
I think that should cover it. Anything specific you're wondering about?
As for Irencrag Pyromancer and Skyline Despot, I'll start with Pyro.
I think this one might a little dangerously narrow, though you may be able to get away with it if you pillowfort really hard and consistently, since in order to get value off of this you'll have to pretty much make sure you never lose monarch after casting Queen Marchesa, because otherwise you just played it for nothing. Of course, this also depends on how many other draw effects you have, so if you have a bunch I think it's safer. But overall, the opportunity cost of cutting a card for this on top of it potentially doing nothing in a non-insignificant number of scenarios makes me hesitant.
Now, Skyline Despot. I think this is more ok, but I definitely think if you slot this you should treat it as a wincon/bomb and swap it in for one of your existing bombs, and I also think you should fully expect it to eat removal and result in a 7 mana "cast to regain monarch" since it has to survive a whole turn cycle for you to even get one 5/5 token. So, depends on your meta, but similar to Irencrag Pyro, I think it is best to consider the worst case scenario (unless worst case scenario is just super unlikely).
3 months ago
I think Flawless Maneuver will end up being less useful than Teferi's protection and Boros Charm.
I'm really liking Drannith Magistrate.
Agitator Ant, Frontier Warmonger, and Ruinous Ultimatum also seem fun but I don't think they will ultimately be good enough to keep in my list long term unless I like them enough to make the conscious decision to keep them over something that would be objectively better.