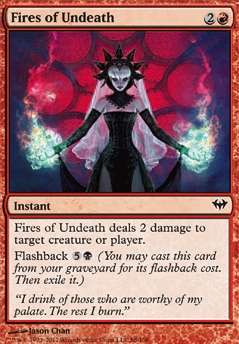 Fires of Undeath
Instant
Fires of Undeath deals 2 damage to target creature or player. Flashback 5{B}
Browse Alters
Legality
| | |
| --- | --- |
| Format | Legality |
| 1v1 Commander | Legal |
| Block Constructed | Legal |
| Canadian Highlander | Legal |
| Commander / EDH | Legal |
| Duel Commander | Legal |
| Highlander | Legal |
| Legacy | Legal |
| Leviathan | Legal |
| Limited | Legal |
| Modern | Legal |
| Oathbreaker | Legal |
| Pauper | Legal |
| Pauper EDH | Legal |
| Tiny Leaders | Legal |
| Unformat | Legal |
| Vintage | Legal |
| Casual | Legal |
| Custom | Legal |
| Quest Magic | Legal |
Latest Decks as Commander
Fires of Undeath Discussion
1 month ago
Nope. A card's color, as referenced in-game by cards is determined by its casting cost, color indicator or a color defing ability.
For Commander deckbuilding, there is a slightly different concept of Color Identity.
Direct quote from the link:
"For example, while Fires of Undeath is a card, and Silver Knight has protection from it and White Knight does not. It can't be used by a player who uses Kumano, Master Yamabushi as their General in a game of Commander. This is because the color identity of Fires of Undeath is and is not a subset of the color-identity of Kumano ()"
In your example, Neyith cannot go inside the Tatyove deck because of the portion of the hybrid symbol in Neyth's text box, which adds that color to its color identity (but not to its color)
2 months ago
I actually made an entire deck around this concept that works surprisingly well. Steve Argyle is a particularly great resource for this topic. In addition to Liliana of the Veil and Chosen of Markov  Flip, he's also done Deadly Allure , Guul Draz Vampire , Naya Battlemage , and Night Revelers . Other notable artists are Jason Chan ( Deathpact Angel , Fires of Undeath , Kiora, Master of the Depths , Mayael the Anima , Maul Splicer , Treasured Find ) and Volkan Baga ( Elspeth, Knight-Errant , Korozda Gorgon , Stoic Angel , Student of Warfare ). I ended up going with vampires + knights and some other cards I included are Hero of Bladehold , Knight Exemplar , Teysa, Envoy of Ghosts , Elenda, the Dusk Rose , and possibly the most ridiculous piece of Magic art ever created: Soul Collector . Some cards that came close to making the cut are Angel of Despair , Bloodflow Connoisseur , Drana, Kalastria Bloodchief , Knight of Dusk , Magister of Worth , Avacyn, Angel of Hope , Vampire Hexmage , and Veteran Cavalier .
Other cards that I like (sorted by type) include Exava, Rakdos Blood Witch , Lyzolda, the Blood Witch , Kemba, Kha Regent , Sunspear Shikari , Elvish Champion , Gaea's Herald , Quirion Dryad , Nimbus Naiad , Dreamborn Muse , Mistral Singer , Shipwreck Singer , Siren of the Fanged Coast , Akroma, Angel of Wrath , Archangel of Strife , Basandra, Battle Seraph , Razia, Boros Archangel , and Ire Shaman . Looking at this list now, it's clear I've spent far too much time researching this subject.