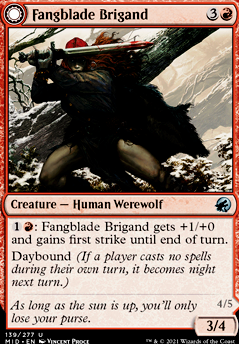 Back:
Fangblade Eviscerator
Fangblade Brigand
Creature — Human Werewolf
: This gets +1/+0 and gains first strike until end of turn.
Daybound (When this enters the battlefield, if it's not day or night, this game becomes day for all players. If a player casts no spells during their own turn, this game becomes night for all players next turn during the untap step. When it becomes night, all permanents on the battlefield transform into their nightbound side if they have one, and any new permanents that enter the battlefield will enter on their nightbound side if they have one. Becoming day/night does not use the stack and cannot be responded to.)
Latest Decks as Commander
Fangblade Brigand Discussion
2 months ago
Hey, well done on a budget for your first deck, nice Huntmaster of the Fells  Flip.
Some budget cards to consider adding:
---
Some cards to consider cutting:
---
Some budget land upgrades to consider:
Good luck with your deck.
2 months ago
Hey, good attempt for a budget version of Tovolar. nice Aggravated Assault. You've mistakenly added two Tovolar's Huntmaster  Flip :)
The card that combos with Spellbinder is Savage Beating for extra attacks which is now a $30 card. Without having Beating then Spellbinder is not worth playing because there's only 5 instants here out of 94 other cards.
When you control five or more lands then Bear Umbra enchanted to a creature who can keep attacking can pair with Aggravated Assault for extra attacks. Attacking with five or more creatures makes Druids' Repository combo with Assault. Savage Ventmaw who can keep attacking combos with Assault and also makes infinite green/red mana. Umbra could replace Spellbinder, Repository could replace Mantle of the Wolf and Ventmaw could replace the other copy Huntmaster.
---
Consider more one, two, three drop Werewolves to replace the vanilla four and five drop Werewolves?
Some of these could replace:
A couple of reasons for these changes is to get three or more Werewolves onto the battlefield to transform Tovolar quicker and have more Werewolves that can give you value rather than just only being Werewolves.
---
Some lands to consider adding, replacing of some basic lands.
Good luck with your deck.