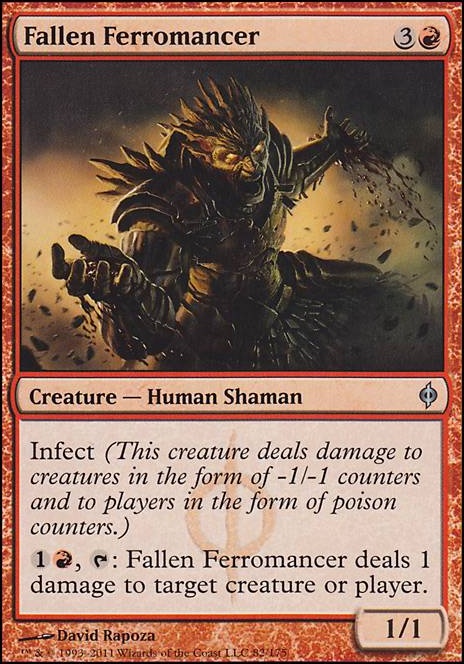 Legality
3 years ago
Monastery Swiftspear is there as a solid turn one creature option, since the bulk of the creatures in this deck are cost two mana. If you would like to replace them with an infect creature, I would recommend Necropede over your other suggestions, as it is another 2-drop (and colorless, so you don't need to worry about colors at all). The thought process behind not using Ogre Menial or Fallen Ferromancer is that they are way too expensive for their effects, at least for this deck.
From a pump spell stance, Ferromancer is no better than any other 1/1, and pinging someone for one poison is kind of slow for the deck.
The ogre is a little better, as at least it doesn't die to Lightning Bolt , but still, 4 mana is too slow.
I considered Razor Swine while I was getting the list together, but first strike isn't enough to save it from a large chunk of 3-drop blockers and for 3 mana that makes it kind of under powered.
4 years ago
Hateflayer, Stigma Lasher, Fallen Ferromancer, Misfortune,Furystoke Giant for red.
Triumph of the Hordes, Blightsteel Colossus, Glistening Oil, Inkmoth Nexus, Phyrexian Crusader, Phyrexian Hydra,Phyrexian Swarmlord, Skithiryx, the Blight Dragon, and Snake Cult Initiation give you an additional wincon that fits with your -1/-1 theme
4 years ago
A creature would receive a -1/-1 counter (this is also true for a Cinderbones equipped with Viridian Longbow) and a player would receive a poison counter. This interaction is even baked into a single card with Fallen Ferromancer.
Load more