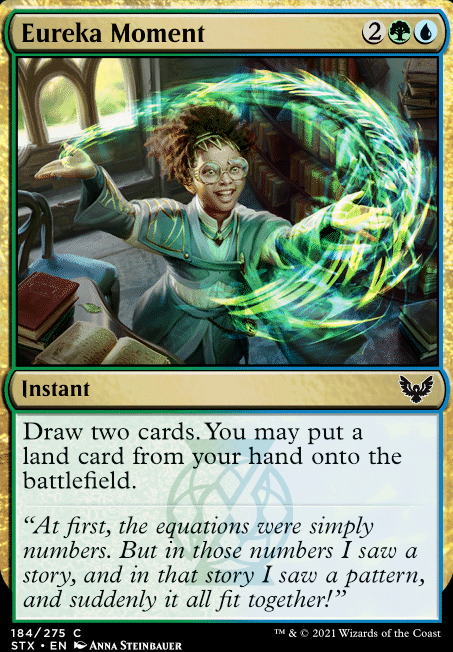 Eureka Moment
Instant
Draw two cards. You may put a land card from your hand onto the battlefield.
Latest Decks as Commander
Eureka Moment Discussion
1 month ago
Hey, you're welcome, nice changes.
Is the +1/+1 counter theme worth it here? Bane is a good card in multiplayer, but it doesn't need a +1/+1 counter theme to be good, it just happens to use +1/+1 counters. Champion of Lambholt also uses counters, but she gets counters from creating creature tokens, interaction with Twincasters. Fractals also have counters, but that's just how they're created, the additional +1/+1 counter theme isn't really helping Fractals. +1/+1 counters don't have interaction with making token copies of creatures since the token copy doesn't get the counters when it's created.
A good counter interaction here is Primal Empathy + Fathom Mage , but how consistent is it that you get both these cards without having tutors to get them? Not sure if Fathom is worth playing as a draw source when it wants a more expanded counter theme to get the most out of it. Empathy, you don't have a consistent high power creature to take advantage of the draw.
Fae Offering has a good token effect with Twincasters, but only if you can trigger it which consistently seems too difficult here. Khalni Ambush  Flip, fight is good with Hornet Nest , but I don't think I would play a card that all it does is fight just to have this interaction. You don't really have powerful enough creatures until later in the game that can fight an opponents creature, kill it while also having your creature survive.
---
Some budget changes to consider based on my last comment:
2 months ago
I'm not sure if you got the precon or not, but a few of the cards from it are real gems for this deck!
Adrix and Nev, Twincasters can duplicate the number of tokens you get just like any of the other doubling season effects. Any of these effects copy the effect that makes the token, so the token would still enter with whatever number of counters the origin of the effect would make.
Curiosity Crafter is a token-specific Reconnaissance Mission / Coastal Piracy - style effect. If you're able to consistently make large enough tokens, Garruk's Uprising and Elemental Bond are also excellent options.
Ruxa, Patient Professor is amazing with Fractals! Ignore the first paragraph...the second and third line are gold. And that third line helps us get that sweet value from the Curiosity Crafter-style draw spells.
Don't be afraid of instant-speed draw like Eureka Moment and Growth Spiral . They may look unimpressive, but they perform way better than they look. Return of the Wildspeaker would also likely be awesome in your deck, with a bunch of very large non-humans. Perplexing Test has also performed very well in my token deck.
I'm going to call out Full Flowering and any other token copiers as cards that might not perform very well, since those don't replicate the +1/+1 counters on your 0/0 tokens. Biomass Mutation is an absolute house in here, especially with any form of evasion, like Ruxa, trample from Garruk's Uprising, or the flying from Combine Chrysalis .
2 months ago
Cool, so creatures with abilities, +1 +1 counters, midrange, and not pushing it into silly competitive. I'd look at building a strong 'spine' to the deck that draws cards and plays lands, probably around 12 cards + lands, then running a lot of 1-ofs to fill the other slots. It keeps things feeling fresh in more casual lists.
Coiling oracle and growth spiral offer an incredible start to that spine, with some 1-ofs to fill it out, say a Eureka Moment , a Zimone, Quandrix Prodigy and a couple of Explore . Gyre Sage and Incubation Druid offers an alternative 'ramp/combo' spine with untaps going infinite, if that is your thing.
Biomancer's Familiar offers a Training Grounds type effect that plays nice with adapt effects. Oran-Rief, the Vastwood or Vastwood Fortification  Flip can help getting counters on creatures that like them but don't get them normally. This can also play very nicely with Master Biomancer and Fertilid type effects.
In terms of creatures there are a lot that have really cool abilities that never quite made it to competitive. I'd look up the graft/evolve/adapt keywords to start, followed by simic standard decks older than a couple years to see if there is any stuff you love, then stuff that cares about counters - Animation Module , Simic Ascendancy , but more importantly creature types like ooze (and stuff like Ooze Flux ). There are a lot of janky crabs and fish that deserve to see play but never made the cut because of the format's focus on 1 drops, and so long as you keep an eye on the overall curve you should be able to use most of them.