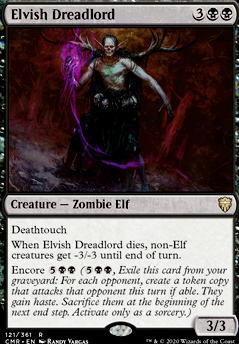 Elvish Dreadlord
Creature — Zombie Elf
Deathtouch
When Elvish Dreadlord dies (is put into the graveyard from the battlefield), non-Elf creatures get -3/-3 until end of turn.
Encore (, Exile this card from your graveyard: For each opponent, create a token copy that attacks that opponent this turn if able. They gain haste. Sacrifice them at the beginning of the next end step. Activate this ability only as a sorcery.)
Latest Decks as Commander
Elvish Dreadlord Discussion
6 months ago
Well for the lands you can obviously swap out basics, etc. For the rest besides ramp, I think it's honestly a card by card thing, and you have to judge if you'd rather have one of the ones I mentioned or something in the deck, as in which would be more effective. It's your deck you know it better than me so you may not agree with some of these, but things I would cut are Wood Elves (too much mana, could be better used), Elvish Dreadlord (there are already effects like this in the deck that are cheaper and don't require a death trigger), Eyeblight Massacre (could be better used, already similar effects), Beacon of Unrest (not necessarily an effect that has to do with the deck-), Maelstrom Pulse (considering you can only have 1 copy of each card in edh I'm not sure how useful this will be), Alpha Authority (Lathril already has menace, this basically gives her hexproof for two mana not so good), Moldervine Reclamation (a lot of cards seem heavily bent on creature death triggers which may not be the easiest thing to work with, possibly slow at least, though its certainly possible the deck just needs more cards geared for it, like Ashnod's Altar , etc and less of elf tribal), Storrev, Devkarin Lich (again, unless you want to cut down on elf tribal elf graveyard effects won't be too strong I think anyway). Just some ideas, I'm not too sure.