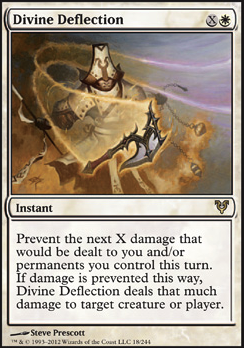 Legality
| | |
| --- | --- |
| Format | Legality |
| Tiny Leaders | Legal |
| 1v1 Commander | Legal |
| Magic Duels | Legal |
| Canadian Highlander | Legal |
| Vintage | Legal |
| Modern | Legal |
| Penny Dreadful | Legal |
| Custom | Legal |
| Leviathan | Legal |
| Legacy | Legal |
| Duel Commander | Legal |
| Oathbreaker | Legal |
| Unformat | Legal |
| Casual | Legal |
| Commander / EDH | Legal |
Divine Deflection
Instant
Prevent the next X damage that would be dealt to you and/or permanents you control this turn. If damage is prevented this way, Divine Deflection deals that much damage to target creature or player.
Divine Deflection Discussion
1 month ago
I am bored, so I will take this quite seriously.
1 year ago
lance4224130 It seems a lot better now with those changes. How has it worked out recently?
For Deflecting Palm, you can just switch it with another nice aoe/utility you could tutorize through Sunforger. Here are a bunch of possibilities : Teferi's Protection , Volcanic Fallout, Skred (if you opt for the snow-covered lands), Sulfurous Blast, Magma Jet, etc.
If you want something which ''looks like'' Deflecting Palm, you can always try out Divine Deflection. It's certainly a bit better there because you can, with a lot of mana, prevent the damages from all spells you're gonna cast this turn, and burn everyone. I'm not convinced though. It's pretty much a meh card.
That said, I think you could find a home for Sivvi's Valor in your deck, as you were seeking for ways to protect your commander. The loss of life doesn't really matter considering the absurd amount of lifegain you have.
Tithe is also an incredible card, if you manage to find the place for it.
Honor the Fallen is an interesting graveyard hate card, and it works pretty well with your strategy (lifegain) and the Sunforger.
1 year ago
Let's say my Opponent attacks with Primeval Titan and I block with Swans of Bryn Argoll. I then cast Shining Shoal with X=6 targeting the Titan. Can I prevent the damage before my Opponent draws Cards? I say yes, because the source of the Damage is affected by Shining Shoal so it never came to damage that could be prevented.

What if the Titan has double strike? Shining shoal says "the next X damage that a source of your choice would deal". Does this prevent first as well as normal strike damage if X is high enough?

Can Shining Shoal "target" Progenitus with it's first ability, because it doesn't have the word target on it?

Same Szenario as in 1. but I cast Divine Deflection with X=6. Which ability will prevent the damage? Divine Deflection or Swans of Bryn Argoll?
1 year ago
In your colors things like Divine Deflection and Feral Hydra are going to be great. A lot of tiny leaders decks I see dont run many X spells, and since X is 0 can turn an ok draw into an amazing one in the late game. Dont go overboard, but 7-10 spells you can charge up works well. Since you are newer to the format, figured Id share this little gem.
Load more
No data for this card yet.