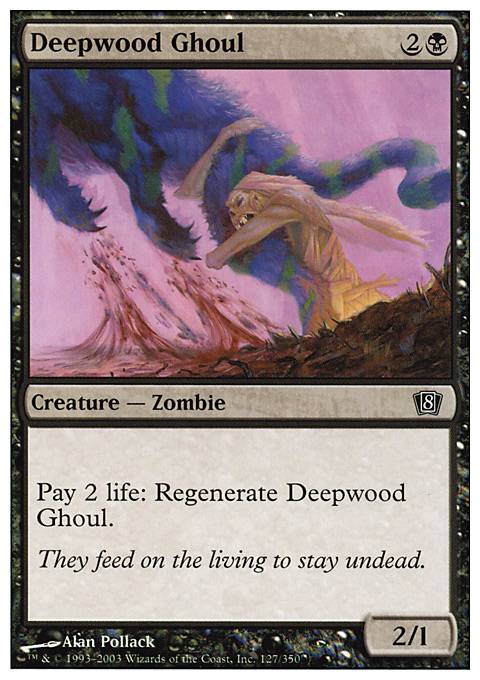 Deepwood Ghoul
Creature — Zombie
Pay 2 life: Regenerate Deepwood Ghoul.
Browse Alters
Legality
| | |
| --- | --- |
| Format | Legality |
| 1v1 Commander | Legal |
| Block Constructed | Legal |
| Canadian Highlander | Legal |
| Commander / EDH | Legal |
| Duel Commander | Legal |
| Highlander | Legal |
| Legacy | Legal |
| Leviathan | Legal |
| Limited | Legal |
| Modern | Legal |
| Oathbreaker | Legal |
| Pauper | Legal |
| Pauper EDH | Legal |
| Tiny Leaders | Legal |
| Unformat | Legal |
| Vintage | Legal |
| Casual | Legal |
| Custom | Legal |
| Quest Magic | Legal |
Latest Decks as Commander
Deepwood Ghoul Discussion
2 months ago
Hey Walrighti, +1!
Congrats on your first deck! You have a lot of fun cards in here and it looks great! I imagine you want to tune and make it even more efficient so here are some ideas...
Add 3 categories: #Combo, #Lifegain, and #Evasion; and then sort your maybeboard the same way you've done your mainboard to easily rank your choices within a category (By "combo" I mean all your "if-then" cards like Trudge Garden that are slower and don't work by themselves). Remove #Creatures (most of them are #Combo).
Avoid most cards above 4 cmc... Willowdusk is fast and fragile, so play into that... Also, prioritize cards that can do 2 or more things or that give value on ETB... If you have pet cards that don't really fit and that hurt to cut, put them in a "I'll build that theme later" list.
...Always play at least 10 ramp spells under 3 cmc.
...Playtest and make sure Willowbark consistently makes a fatty (with evasion) before turn 6-7.
Here's another Willowdusk thread.
Happy building :)
3 months ago
You might like these: Blood Celebrant , Font of Agonies , Necrologia , Deepwood Ghoul , Lurking Evil , Mischievous Poltergeist , Soul Channeling , Unspeakable Symbol , Wall of Blood , Souldrinker , Vampiric Link , Banehound , Vampire of the Dire Moon , Vampire Cutthroat , Vault Skirge , Cauldron of Souls
3 years ago
Ich schreibe dir morgen (oder vielleicht heute Abend, welche Karten ich rausnehmen wrde und warum.
Jetzt scheie ich dich erstmal mit Karten zu, die mir noch dazu einfallen :D
Kram, der mit deiner Strategie zu tun hat (beinhaltet sowohl shit, als auch geile Sachen):Deepwood Ghoul, Ethereal Champion, Glorifier of Dusk, Greed, Hatred, Lurking Evil, Marrow Bats, Martyrs' Tomb, Mischievous Poltergeist, Necrologia, Plague of Vermin, Souldrinker, Tymna the Weaver, Underworld Connections, Yawgmoth's Bargain, Tree of Perdition, Ajani Goldmane, Ajani, Caller of the Pride, Arbiter of Knollridge, Beacon of Immortality, Celestial Mantle, Oketra's Last Mercy, Invincible Hymn, Serra Avatar, Storm Herd, Chalice of Life Flip, Nightmare Lash, Phyrexian Processor, Well of Lost Dreams
Kram, der unabhngig von deiner Strategie gut ist:Soul of Innistrad, Grave Betrayal, Ogre Slumlord, Vengeful Pharaoh, Sudden Spoiling, Painful Quandary, Ophiomancer, Necropolis Regent, Dread, Murder, Royal Assassin, Silence the Believers, Ever After, Ghastly Conscription, Oblivion Ring, Banishing Light, Journey to Nowhere, Stasis Snare, Windborn Muse, Blind Obedience, Prison Term, Aura of Silence, Profound Journey, Comeuppance, Settle the Wreckage , Stalking Leonin, Swiftfoot Boots, Lightning Greaves
Bedenke auerdem, dass du nur 5 Karten haben darfst, die ber 2 Euro kosten und achte besonders beim Basteln auf deine Mana-Kurve (nicht zu viele teure Sachen).