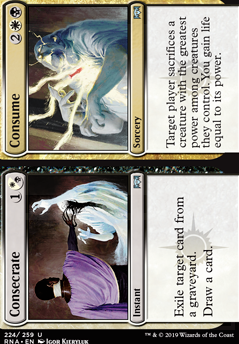 Legality
Rules Q&A
9 months ago
Update!
In
Main
Side
Out
Main
Side
2 years ago
Hi there!
You seemingly have a lot of cards that have some lifegain, but don't do much for your plan in the long run, i.e. Light of Hope, Consecrate / Consume and Revitalize. Ajani's Pridemate and Bloodthirsty Aerialist want continuous ways to gain life, which is best achieved with early lifelink creatures such as Alseid of Life's Bounty and Speaker of the Heavens - the last of which also cares about you gaining life.

Another lifegain card that works well with Garruk, Cursed Huntsman is Tolsimir, Friend to Wolves, as every wolf gains you 3 life and may fight something, if needed.

Luminous Broodmoth is a strong card, but it usually wants sac outlets to really shine and it adds no synergy to the lifegain theme.

Ethereal Absolution is another juicy card, but again, it has no synergy and often times doesn't impact the board enough for a 6-drop.

I get that you want as many lifegain triggers as possible, but playing a ton of lands that enter tapped might make the deck too slow. Having a good mana base and strong synergy between your spells should be sufficient. I'd swap them for shock lands, unless you're running on a budget.

Having an avg. cmc of almost 3.5, you normally want 1-2 more lands for the sake of consistency, or lower the curve.
Honestly, most of the good lifegain cards are in white right now, so using that as a base and "splashing" the other colors in would probably be the way to go.
Hope that helps. Good luck with the deck!
2 years ago
That're quite good recommendations. I need some help and if you have a deck, i sure will look into it. nothing wrong with some 'advertising' :P I will add some cards into my board, to see what is good. It makes sense to put some strong creatures with high cost in it as finishers. Erebos's Intervention is something I do consider, given the removal + life gain as well as the removal from a graveyard. Karlov of the Ghost Council is indeed a good card. But I dont know anyone who actually has it and it doesnt look that cheap. Maybe there will be a reprint?!crossing fingers
I would maybe add Blood Reckoning, instead of Consecrate / Consume, as it is a nice combo with Revenge of Ravens.
Thank you for your help and critisism. I now have a more clear view on what my deck is lacking.
2 years ago
That is a very good question, what to cut. I don't want to micromanage anything but here are cards I feel are "weak" with what you have going (also, keep Dash Hopes if your play group hates it, it must be good ;))
Out (?): Conclave Tribunal
Dictate of Erebos (I know, it's an amazing card, but without creature support it isn't actually doing anything for you. This is a soft cut, it's always going to put a little work in just like Butcher of Malakir)
Maybe replace Prison Realm with One Thousand Lashes and/or Faith's Fetters
I LOVE Subversion but is it really putting in enough UMPH for 5 CMC? I really like Righteous Cause but that's just me. Hissing Miasma is pretty cool too, no life gain but it's cheaper and deters attacks.
Consecrate / Consume (hope formatting works here) is a 4 cmc kind of squanky force sacrifice of the most dangerous (most powerful) creature of an opponent. I don't like it. You have a huge removal suite and this seems like a good cut. You have Orzhov, you are the removal king and you can Murder or Return to Dust
Consecrate / Consume is too situational to be useful in your go-to 100
Revival / Revenge is sexy, keep it. But look at what cards actually make it mean something. Serra Avatar Evra, Halcyon Witness Sunbond etc. Play around with it, but in my experience, it is rare for doubling your life total to more impactful than gaining 3 instances of life gain. (but look at Wall of Reverence
Cut Dismember for more "UMPH" (kill conditions) Cut Make a Stand for more "UMPH" (kill conditions) Cut Nightmare's Thirst It is too situational for you. We can find better removal. Find room for more "UMPH" (kill conditions) Cut Rootborn Defenses we're going to add some creatures who love life gain after this section
OK, stick with me on this one: Liliana, Dreadhorde General draws cards for dead creatures, right? But... you don't have creatures (really) in your deck... Not saying cut her, but she would and will be happier in a sacrifice black deck (Maybe a Sheoldred, Whispering One deck, I think you could do it). If you need to make cuts I'm saying she isn't doing much for you here but letting you draw sometimes.
We're not abusing Athreos, God of Passage but he's too awesome to cut. If he isn't pulling his weight in this deck you can ship me the card, I'll give you my address. ;)
Mentioned Butcher of Malakir before: awesome card as deterrence but it shines when you have a lot of token to sacrifice for value. not an immediate cut, but if you include Sheoldred, Whispering One and Dictate of Erebos you might want want to add some sacrifice/recursion to capitalize. Making your sacrifices give you advantage and hurt your enemies is the coolest thing black can do.
Cut Piper of the Swarm replace with Vampire Cutthroat or Vampire Nighthawk or Call to the Feast or really anything. Piper isn't helping your mechanics. Replace with Sunscorch Regent because that guy beefs up fast and hard.
In (?)
Dusk is a great wipe and the dual nature of the card gives utility.
This is your call. I'd recommend Sunscorch Regent as a win-con.
Serra Avatar is great with life gain, especially if you add Rogue's Passage
Just look for ways to make that life gain work for you: Bloodbond Vampire Bloodthirsty Aerialist Ajani's Pridemate
Rebuff the Wicked is a fantastic counterspell, works with you control aspect. If it were me I'd add more card draw and Approach of the Second Sun and aim for that. Easier win con than Revel in Riches in my experience (have mardu deck based on treasure, removal and alternate win cons and Approach of the Second Sun is much easier and more reliable than Revel in Riches.
I don't know what else to say. You make your own Kambal deck. Just know you need some "UMPH" to take down your opponents beyond some life gain and drain. I love the build, but you need to 'seal the deal' as it were.
2 years ago
Legion Conquistador would be a reliable source of Sacrifice as well, as when you get Legion Conquistador on the battlefield you will already have 3 others in hand if you're running four. The only problem is that there wouldn't be a 1/1 white vampire lifelink token if you use this strategy, which is why I STRONGLY recommend running Martyr of Dusk over this card. But the only problem is drawing that card! So, something like Consecrate / Consume or even Revitalize would be very useful. I absolutely love Revitalize, as it gives 3 life as well as a draw, which is even better than Consecrate!
2 years ago
The Consecrate half of Consecrate / Consume only says "a graveyard," it doesn't specify if it has to be yours or an opponent's, so yes, you can target a card in an opponent's graveyard.
2 years ago
Can consecrate use the enemy's graveyard for exiling?
Load more