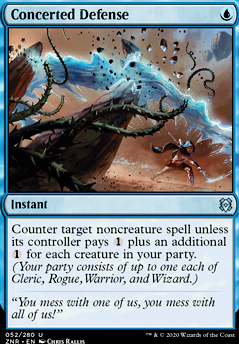 Concerted Defense
Instant
Counter target noncreature spell unless its controller pays plus an additional for each creature in your party. (Your party consists of up to four creatures, one Cleric, Rogue, Warrior and Wizard, each.)
Latest Decks as Commander
Concerted Defense Discussion
4 months ago
ChrisHansonBiomancin Thanks for feedback! I have similar thoughts on Symmetry Sage, and I'm going to switch to a different threat. I also completely forgot about Snakeskin Veil, will definitely throw that in.
Since I don't care about cheap instants or sorceries as much anymore without Symmetry Sage, and Decisive Denial is also removal, I'll also cut Concerted Defense.
One thing I'm staying adamant on is the spell lands however. One never intends to cast them, their purpose is strictly to artificially increase the instant and sorcery count for delver. That being said, I also can't afford to run more dual lands with Vineglimmer Snarl and I'm not running tap lands, thus no Werewolf Pack Leader. It may be possible green stompy is just better though.
1 year ago
I think a good place to start would be to evaluate what goals are the most important for your deck while making sure you don't have too many ideas that compete against each other. When I look at the deck now, I can see the general idea of a U/W control list that takes advantage of freeze and lifegain to prolong the fight until you can win. However, I see some major problems with the plan as it is now.
First, the deck lacks a clear win condition at the end of all the control. You'll either need to chip away over the course of a slow game with your smaller creatures or hope you have enough freeze effects to get your big guys in late-game. Control deck usually opt for some type of haymaker that can reliably close the game. Some like AEtherling and Gideon, Ally of Zendikar are designed to protect themselves, some like Celestial Colonnade and Shark Typhoon place emphasis on evasion, some like Torrential Gearhulk and Snapcaster Mage give you as much value as possible, and some like Jace, the Mind Sculptor and Teferi, Time Raveler deny your opponents of counterplay. There's a lot of overlap within those categories and not all of these cards will be played as a wincon, but having a clear plan to win is better than only playing to not lose. The closest cards you have are probably Serpent of Yawning Depths and Archipelagore. Sea monsters are certainly a fine casual deck but slotting them into something else can be awkward at best and ineffectual at worst.
The second problem I see is the missed potential of your chosen colors combined with your chosen tribe. Right now, you have very few ways to take advantage of the clerics in the deck. Clerics are intended to be W/B since you get access to powerful new tools like Orah, Skyclave Hierophant, Taborax, Hope's Demise, and Cleric of Life's Bond along with classics like Sin Collector, High Priest of Penance, and Skirsdag High Priest. The lifegain/drain synergy in clerics also benefits from orzhov colors to play threats like Angel of Destiny, Vito, Thorn of the Dusk Rose, Marauding Blight-Priest, Speaker of the Heavens, Ayli, Eternal Pilgrim, Twilight Prophet, Pious Evangel  Flip, Drana's Emissary, and Cruel Celebrant.
Incidentally, black also synergizes quite well with tapdown effects because of Assassinate cards like Royal Assassin, Deathbringer Liege, and Murderous Compulsion, although white does have its share of Vengeance with Sunblast Angel, Deadeye Harpooner, and Swift Response. Anyway, now that I'm on this tangent, it's worth mentioning that including strong freeze effects is important if you want to make such an underused mechanic work. I'm partial to Dungeon Geists and Icefall Regent as permanent taps, but there's also Guardian of Tazeem, Niblis of Frost, Tamiyo, the Moon Sage, Time of Ice, Lorthos, the Tidemaker, Frost Titan, and Hands of Binding. Alternatively you can use cheaper cards that can retap a creature each turn like Gideon's Lawkeeper, Blinding Souleater, Fatestitcher, Hidden Strings, and Minister of Impediments. The final category I'll mention are other cards that take advantage of tapping enemy creatures like Palliation Accord and Verity Circle, except I'd only ever recommend the latter.
In summary, I think you should decide whether you're more interested in clerics or in freeze since they don't synergize with each other that well. For clerics, switching to black and taking advantage of lifedrain and sacrifice is advisable. For freeze control, find ways to abuse tapping, implement a strong win condition, and generally include more card draw and countermagic. If you are dead set on combining these styles, I'd at least invest in some tribal support cards to give the clerics more impact than just weakly contributing to the party mechanic. Adaptive Automaton, Door of Destinies, Obelisk of Urd, and Coat of Arms are some popular options. Finally, if your budget doesn't allow you to purchase many new cards, prioritizing the acquisition of additional copies of your strongest but cheapest cards is a good way to upgrade. For this deck, I think those cards are Attended Healer, Cleric of Chill Depths, Hypnotic Sprite, Kor Celebrant, Luminarch Aspirant, Queen of Ice, Shepherd of Heroes, Skyclave Cleric  Flip, Concerted Defense, Dovin's Veto, Negate, Inscription of Insight, Staggering Insight, Trapped in the Tower, and maybe Silundi Vision  Flip. Good luck with your build and let me know if you have any questions!
1 year ago
Determining just how broken a card is depends on how well it can be interacted with. Omanth is very easy to interact with. However I do believe Genesis Ultimatum or Escape to the Wilds should have seen the axe
The other problem is that so many players are playing it just to win.
I think the bigger problem is that it forces a player to interact with it so early which throws off an opponents game plan, that and players don't want to put more removal in their decks.
Bloodchief's Thirst, Giant Killer, Mutual Destruction, Feed the Swarm Heartless Act Legion's Judgment Murderous Rider Mythos of Nethroi Dirge Bat Hagra Mauling  Flip Drag to the Underworld Smite the Monstrous Triumphant Surge Angelic Ascension Dire Tactics Epic Downfall Necromentia Deny the Divine Eat to Extinction Banishing Light Skyclave Apparition Redcap Melee Thundering Rebuke Charge of the Forever-Beast Flame Spill Soul Sear Channeled Force Mythos of Vadrok Rumbling Rockslide The Akroan War Concerted Defense Anticognition Essence Scatter Jwari Disruption  Flip Lofty Denial Cancel Convolute Deny the Divine Didn't Say Please Mystical Dispute Mystical Dispute Memory Drain Rewind Agonizing Remorse Memory Theft Pelakka Predation  Flip Shatter the Sky Storm's Wrath Extinction Event
That's a whole lot of cards that can deal with Omnath decks. So its not so broken that it can't be dealt with. Does it mean you have to add more than 4 removal cards or change colors? You might have to. Does it mean you might have to change some strategy? Possibly.
Mono White has at least 12 solid answer cards for Omnath and you can still play aggro. Blue has counterspells though you might have to pair it with another color. Red has a few options as well, and the only color that is lacking is if you play mono green. With that many cards you really can't say it's so broken it's unbeatable. You have to play around it. You have to anticipate the strategy. These cards can easily be maindecked, and if youre a player that goes 38 creatures and only 22 lands then I'm sorry for you.
But I wholey disagree with the term Broken. Ive often seen Omnath players quit when they lose Cobra and Omnath. I've also seen a lot of them pass the turn and pass several turns. If you cannot answer it, its out of lack of trying, preparedness, or just a bad game which happens. Also, its not Omnath doing broken things. Omnath only produces the mana to do really really good things. IF Wizards bans Escape and Ultimatum players will have to switch to Lithoforming and while it won't kill the deck it will slow it down and I think that's a more fair approach. But yeah... as above, you don't have to limit yourself to just what's being played. Think outside the box.