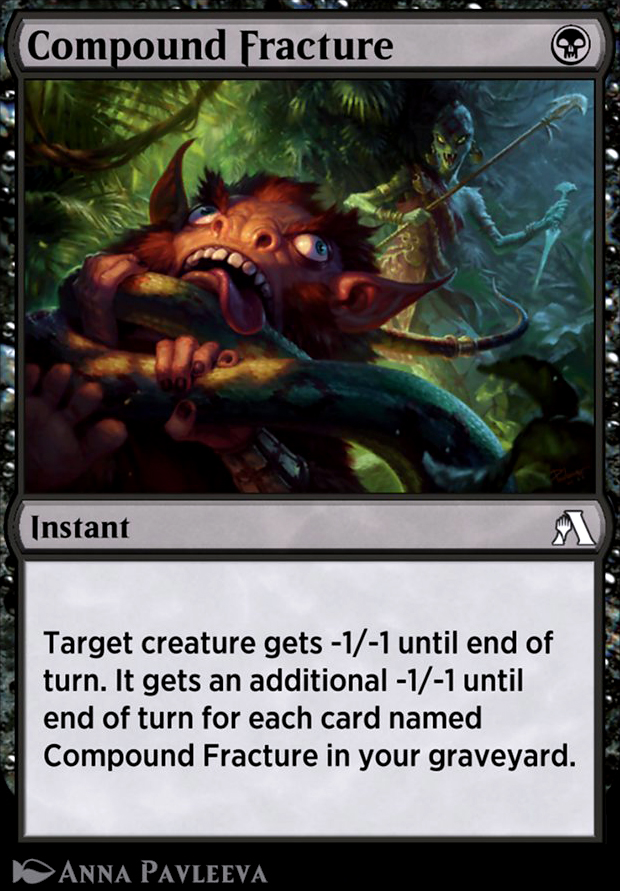 Compound Fracture
Instant
Target creature gets -1/-1 until end of turn. It gets an additional -1/-1 until end of turn for each card named Compound Fracture in your graveyard.
Browse Alters
Legality
| | |
| --- | --- |
| Format | Legality |
| Arena | Legal |
| Gladiator | Legal |
| Historic | Legal |
| Pauper | Legal |
| Casual | Legal |
| Custom | Legal |
| Quest Magic | Legal |
Latest Decks as Commander
Compound Fracture Discussion
2 months ago
I see your deck is budget, and I wanted to suggest some budget inclusions for cards that would create tokens that also trigger Ayara's drain ability.
Chittering Witch creates RAT tokens!!
Abhorrent Overlord Generates a LOT of harpy tokens as your devotion to black will be large with Ayara in play.
Rise of the Dread Marn is a great way to refuel your board with black creatures after a board wipe or large death effect.
Lab Rats is a great way to slowly add more rats to the field with enough mana for the buyback price.
Josu Vess, Lich Knight can be brutal with Ayara on the battlefield if the kicker cost is paid.
Necrotic Hex can be a good board clearing effect that also makes black creatures.
Your deck could also use some cards to help find your enjoyed rat cards. Some budget options in black include Diabolic Tutor , Mausoleum Secrets , and Ratcatcher !
Some cards you're using aren't especially great in a singleton format. Cards like Compound Fracture and Hunt for Specimens could be replaced with Defile and Callous Bloodmage respectively.
Have fun playing EDH! The best suggestion is to play with others and learn what cards you like and dislike using and adapt with new cards that fit your budget.
7 months ago
hey! Thanks for uploading the list. Regarding the legality, don't worry about it, the site staff has to manually adjust legality for one-off cards like those so it probably slipped their attention. You can report it here for fixing: https://tappedout.net/mtg-forum/tappedout/official-missingincorrect-cardtoken-thread/?&p=37&page=37
To answer your question, I think it's fine for an aggressive deck like this one to focus more on the graveyard synergies and getting big creatures in play than countering the opponent's every move. In general you'll be the "aggressor" so you only want to remove things that are a huge threat to you or are stopping you from winning the game.
However, I think your current removal suite isn't the best. You mention you "have to remove creatures while they're still small" and maybe that's why you felt like you had to run a lot of removal. If you swap out your "conditional" removal, like Compound Fracture, for "unconditional removal", like Feed the Swarm or Murder, you don't need to worry about having removal at the exact right turn.
I'd recommend removing all Fractures for 3x additional Feed the Swarm or 2 more Feed the Swarm and 1 more Drag to the Underworld.
Just in general deckbuilding advice, you have a few "2-ofs" that don't make a lot of sense to me. Having less than 3-4 copies of a card usually means you have a way to find it, like using the GY as a toolbox. But I don't know why you'd want to find 1 Thieves' Guild Enforcer, 1 Eye Collector, or 1 Nyx Lotus.
If you're looking for early ways to mill yourself and get creatures into the GY, Mire Triton is the creature of choice for Standard. I would recommend swapping all of the Thieves' Guild Enforcers, Eye Collector, and Nyx Lotus for 4x Mire Triton.
GLHF!
8 months ago
I've been playing this in Standard on MTGArena:
---

---
My big question is, how much of the deck should go to countering other decks? The two most common decks I'm running into are either White or White/Black life gain, usually based on Impassioned Orator and Hallowed Priest, or the decks that stack mutations. In both cases, I find I have to kill the creatures while they're still small. Life gainers build a swarm of huge creatures and I suddenly find myself unable to contain them, mutations get so many disruptive effects that I don't have an answer. So how much removal is too much and how much should I focus on just playing my game?
A previous version of this deck had 13 removal cards, I felt like that was taking focus away from the main objective so I made this one. Is there a balance to hit between disrupting other playing styles and playing your own game?
Thanks!