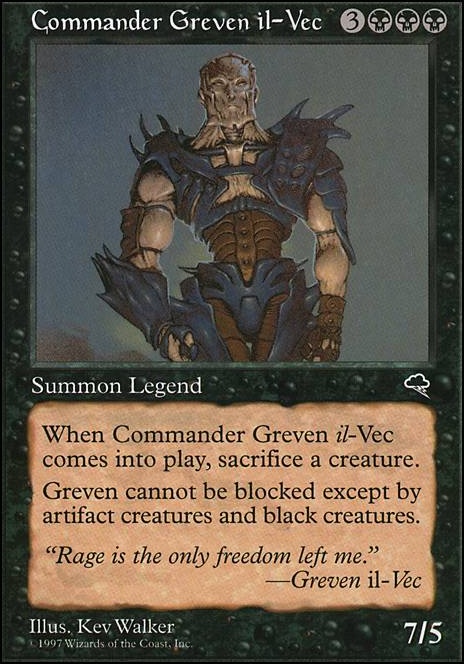 Commander Greven il-Vec
Legendary Creature — Phyrexian Human Warrior
Fear
When Commander Greven il-Vec enters the battlefield, sacrifice a creature.
Commander Greven il-Vec Discussion
2 years ago
Volrath's Legacy
Enchantment - Saga
: Gain control of target creature until end of turn. If you would lose control of it, sacrifice it instead.
: The next spell you cast this turn may be cast by discarding a card that shares a color with it instead of paying its mana cost.
: Return up to two target creature cards from a graveyard to the battlefield under your control.
I wanted to make this to really symbolize Volrath but I feel this still represents him well. The first ability deals with him manipulating people and caring little about their autonomy, like his subordinate Commander Greven il-Vec . The second is a reference to his room in the Stronghold, the Dream Halls , and also helps with the third ability, his being a necromancer.
---
Another in the cycle.
3 years ago
Nice! Well you know how good Grave Betrayal can be then!
I, like you, enjoy picking less popular commanders or in the very least picking unpopular themese to run with popular commanders. Finding new and different interactions are always the best! Commander Greven il-Vec is probably the most unpopular commder I've made. Def havent seen anyone else with it.
3 years ago
Hey there! It appears that the name of the card in question is "Commander Greven il-Vec". Have you tried that?
4 years ago
Ok, I've made some changes with what I had on hand. Here's what I've done so far:
In: Charcoal Diamond, Dauthi Embrace, Sol Ring, Hell's Caretaker, Ascendant Evincar, Distended Mindbender, Abundant Maw, Artisan of Kozilek, and Thornbite Staff.
Out: Soratami Cloud Chariot, Western Paladin, Eastern Paladin, Distorting Lens, Delraich, Wall of Shadows, Infernal Spawn of Evil, Sorceress Queen, and Commander Greven il-Vec.
Now, as I acquire some of the other cards, I'll need to decide what stays and what goes. What should I switch out for Buried Alive at this point? I do have a Jet Medallion, but do I really need it? Hopefully I'll get some play testing done with it this weekend and see how it goes.
5 years ago
These are all the Black commanders I could find that weren't in your list:
Akuta, Born of Ash, Cabal Patriarch, Cao Cao, Lord of Wei, Cao Ren, Wei Commander, Commander Greven il-Vec, Crovax the Cursed, Gallowbraid, Grandmother Sengir, Greel, Mind Raker, Haakon, Stromgald Scourge, He Who Hungers, Horobi, Death's Wail, Hythonia the Cruel, Ihsan's Shade, Iname, Death Aspect, Infernal Kirin, Irini Sengir, King Macar, the Gold-Cursed, Korlash, Heir to Blackblade, Kuon, Ogre Ascendant, Kuro, Pitlord, Kyoki, Sanity's Eclipse, Lim-Dul the Necromancer, Maga, Traitor to Mortals, Maralen of the Mornsong, Morinfen, Myojin of Night's Reach, Ob Nixilis, Unshackled, Phage the Untouchable, Purraj of Urborg, Seizan, Perverter of Truth, Shauku, Endbringer, Sima Yi, Wei Field Marshal, Spirit of the Night, Toshiro Umezawa, Veldrane of Sengir, Visara the Dreadful, Volrath the Fallen, Xun Yu, Wei Advisor, Zhang He, Wei General, and Zhang Liao, Hero of Hefei.
Load more