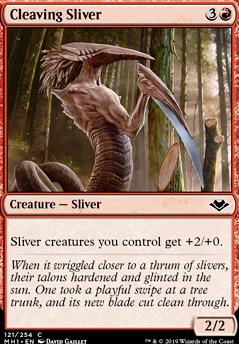 Cleaving Sliver
Creature — Sliver
Sliver creatures you control get +2/+0.
Browse Alters
Legality
| | |
| --- | --- |
| Format | Legality |
| 1v1 Commander | Legal |
| Block Constructed | Legal |
| Canadian Highlander | Legal |
| Commander / EDH | Legal |
| Duel Commander | Legal |
| Highlander | Legal |
| Legacy | Legal |
| Leviathan | Legal |
| Limited | Legal |
| Modern | Legal |
| Oathbreaker | Legal |
| Pauper | Legal |
| Pauper EDH | Legal |
| Unformat | Legal |
| Vintage | Legal |
| Casual | Legal |
| Custom | Legal |
| Quest Magic | Legal |
Latest Decks as Commander
Cleaving Sliver Discussion
3 months ago
I've made some cuts!
Changed Maelstrom Nexus for Descendants' Path . It's 2 mana value lower, requires 4 less colors, still casts, and doesn't care if it casts a MV greater than or equal to a creature I control.
Changed Shared Animosity for Rhystic Study . They're the same cost, but drawing cards/taxing my opponents is more important than making the hive deal more damage.
Changed Leave / Chance for Teferi's Protection

. There have been multiple improvements in card draw and Chance was never used in gameplay. Leave forces me to cast all my board again.
Changed Ready / Willing for Cyclonic Rift . I needed more one-sided boardwipes, and have plenty of other forms of defense that makes Ready/Willing too redundant.
Changed Watery Grave for Vampiric Tutor . Going down to 37 lands is fine, and part of the manabase that's out of balance. Vampiric Tutor is the most powerful tutor, no explanation necessary.
Changed Polluted Delta for Overgrown Tomb (apparently it wasn't actually in the deck). Just updating imbalanced manabase, I don't need every fetch in this deck.
Changed Apex Devastator for Vanquisher's Banner . V Banner is 1/2 the cost and provides card draw upon casting. Apex Devastator was fun, and it can explode very well, but it's better elsewhere.
Changed Fury Sliver for Bonescythe Sliver . Just mana reduction costs, they both provide doublestrike. I may reconsider adding Fury Sliver back in for redundancy.
Changed Cleaving Sliver for Brood Sliver . Creating additional slivers at no cost is better than +2/+0, right?
Changed Commander's Sphere for Realmwalker

. Additional sliver and card advantage, as well as scouting the top-card for cascade potential.
Changed Pillar of Origins for Prismatic Omen . Pillar of Origins is a mana rock for about 1/2 the spells in the deck, Prismatic Omen color fixes all my lands for all of the spells in the deck.
Changed Averna, the Chaos Bloom for Shifting Sliver . Averna was fun, and the mana ramp was explosive, but let's give no-non-slivers a chance to see how it impacts cascades.
Changed Explosive Vegetation for Reflections of Littjara

. Reflections of Littjara doubles Mana Echoes, Distant Melody, Lavabelly, Manaweft/Gemhide, Opaline, Sedge, Spiteful, and Thorncaster effects.
Spells being considered that I own currently; Hollowhead Sliver , Doomskar , & Pyre of Heroes .
Spells being considered that are being purchased soon; Necrotic Sliver , Root Sliver , Bloom Tender , Pulmonic Sliver , Spoils of Victory , Darksteel Mutation , Synapse Sliver , Magma Sliver , Intruder Alarm , Horned Sliver , and Amoeboid Changeling .
Galerider Sliver is being purchased soon and will be changed for Winged Sliver .
7 months ago
Hey, good budget version of Slivers. Nice Morophon and Overlord :)
Command Tower and Exotic Orchard are two less than $1 each Rainbow lands that are staples for five color decks. Path of Ancestry is a fine tribal Rainbow land and it's been reprinted in Commander Legends. Sol Ring , Arcane Signet and Commander's Sphere are three budget staple mana rocks and all are reprinted in Commander Legends which will make Sol/Arcane close or even less than $2 each.
Quick Sliver lets you cast Slivers at instant speed and cascading at instant speed is powerful because timing restrictions for the card you get with cascade don't matter. Flash with Slivers is also good with Harmonic Sliver able to destroy an artifact or enchantment at instant speed. Crystalline Sliver maybe out of budget range at $7, but giving Shroud to all your Slivers protects them from targeted removal. Combine Crystalline with Sliver Hivelord to make your Slivers very difficult for your opponents to deal with. Shifting Sliver makes your Slivers unblockable in combat unless an opponent controls a Sliver.
Amoeboid Changeling is a Sliver since Changelings are all creature types, even if they're in your library or graveyard. Amoeboid combos with Sliver Overlord to gain permanent control of any creature an opponent controls since you change that creature before you gain control of it into a Sliver with Amoeboid. Mirror Entity is another Changeling and it's ability can change all Slivers power/toughness to any number equal to the amount of mana you pay. This can result in attacks with large powered Slivers and Entity has good interaction with Gemhide Sliver + Sentinel Sliver which lets you attack and then tap all your Slivers to make mana to activate Entity. Any anthem effects such as Muscle Sliver or +1/+1 counters that are on Slivers are also applied to the Sliver after you change the power/toughness with Entity.
---
Cards to consider cutting:
Good luck with your deck.