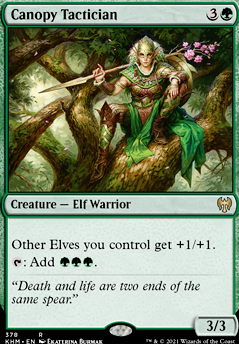 Canopy Tactician
Creature — Elf Warrior
Other Elves you control get +1/+1.
: Gain .
Browse Alters
Legality
| | |
| --- | --- |
| Format | Legality |
| 1v1 Commander | Legal |
| Arena | Legal |
| Block Constructed | Legal |
| Brawl | Legal |
| Canadian Highlander | Legal |
| Commander / EDH | Legal |
| Duel Commander | Legal |
| Gladiator | Legal |
| Highlander | Legal |
| Historic | Legal |
| Legacy | Legal |
| Leviathan | Legal |
| Limited | Legal |
| Modern | Legal |
| Oathbreaker | Legal |
| Pioneer | Legal |
| Pre-release | Legal |
| Standard | Legal |
| Unformat | Legal |
| Vintage | Legal |
| Casual | Legal |
| Custom | Legal |
| Quest Magic | Legal |
Latest Decks as Commander
Canopy Tactician Discussion
1 month ago
Due to some fabulous new elves that have been released over the past few sets as well as the printing of Commander Collection: Green, I've aquired a few more cards and have updated my list.
Forest OUT Fyndhorn Elves IN
I'm not sure why Fyndhorn wasn't initially in here, but its as a good as a land in this deck.
Forest OUT Worldly Tutor IN
While we already have most of the best tutoring green has to offer here, we added the last missing piece. One often overlooked aspect of Elves is that they have incredible toolbox properties, so being able to grab what we need cheaply is great. By cutting two forests we are down to 30 % land, which is what we would run in modern and is a great benchmark for lands. We've got lots of ways to grab our lands in the deck, so we shouldn't miss them too much.
Praetor's Counsel OUT Ezuri's Predation IN
One thing that is really hard to come by in mono-green is board wipes, so I'm really pleased that they reprinted this recently. In theory Praetor's Counsel is good because board wipes are the bane of our existence and this gives us a way to recover, but in reality if we get wiped we'll never be able to pay the mana cost. Its better to just play conservative and use Ezuri's 2nd ability to protect out pieces, and cards like Eladamri to protect him.
Drove of Elves OUT Canopy Tactician IN
Yet another Elf Lord that pumps our whole team and gives us more ramp to boot? Give me more. As for Drove, we have other ways to make one thing big, and while this card has never been bad its never been exciting either. Jagged-Scar Archers gives us crucial anti-flying tech when we need it for one less mana, and while it lacks hexproof, we'll be happy of our opponents waste removal on archers and not one of our more important cards. Timberwatch Elf and Immaculate Magistrate give us flexibility in combat that is far better than the obvious threat drove represents.
Nylea's Presence OUT Elvish Warmaster IN
While giving non-green decks a forest to enable a forest-walk kill is cute, this is somewhat situational, and we have lots of other ways to get through with the damage we need. Warmaster just such incredible value for the same mana that this change seems to be a no-brainer.
Sylvan Offering OUT Elven Ambush IN
While offering is a good card, giving our opponents blockers just doesn't suit us in this deck. Ambush helps only us at instant speed with the creature type we want. Its an improvement on Elvish Promenade that absolutely deserves a spot.
2 months ago
Not a terrible list. There are some subpar cards in here though, although I'm sure some of them fit the "legendaries I like" bill and so that's just down to fun vs winning.
Forever Young is not usually great recursion. It seems good, but it messes with your draws. You'd rather just have other cards drawn or spells that bring creatures back onto the battlefield. The two runes are just kind of okay. There's no obvious downside, the power level is just a tiny bit shy of where cards should be in Constructed formats. Tajuru Blightblade is also low power. You want something with abilities that will benefit the rest of your deck, not something that trades with anything that blocks and leaves with no other value. Jaspera Sentinel is a little slow, and there are better elves to look at for an elf deck. Sarulf, Realm Eater is very slow for a sweeper and hits your own creatures as well, most of whom in the elf package are small. Sculptor of Winter is decent ramp, but you don't need it. An elf deck should be fast and aggressive, and in this one you can have your larger creatures as a backup plan later.
For elves you should be looking at, Skemfar Avenger , Elvish Warmaster , Wildborn Preserver , and possibly Canopy Tactician are all good.
Poison the Cup is subpar removal. Heartless Act and Bloodchief's Thirst are better.
2 months ago
The creatures that are affected by Crashing Drawbridge are determined when the ability resolves. Any creature that enters the battlefield at a later time will not be granted haste. Because cards become new game objects when they move zones Canopy Tactician will no longer have haste after you blink it.
2 months ago
So I'm trying to figure out if Crashing Drawbridge 's tap ability only affects the creaturs that are on the battlefield at the time it was tapped or if it affects all creaturs you control that were just summoned after you have tapped it.
So here is an example of what I'm thinking. Emiel the Blessed , Canopy Tactician and Crashing Drawbridge are on the battlefield. I tap Crashing Drawbridge and canopy tactician then us the three mana to activate Emiel's blink ability on canopy and be able to infinitely keep tapping canopy because the Drawbridge was tapped once or does it not because canopy is considered a new permanent and doesn't have the hast affect anymore?
3 months ago
While in the commander deck, the Crown of Skemfar is not standard legal. Also 4 Tyvar Kells? I feel you only need 2 especially with Harald. Speaking of, Id bring the Harald's up to 4, add in 4 Tajuru Blightblade instead of the 2 Grizzled Outrider and 2 Elven Bow if Fliers are going to be a problem, I'd put the bows in the sideboard IMO. I feel Broken Wings can be switched out for something lke Canopy Tactician if you have access to it. I'd also remove the Skemfar Elderhall entirely, the ability is expensive even with your nice ramp.
Harald Unites the Elves is a must for this deck, you'll have a ton of elves out there its really great if you can pull it off.
Otherwise very similar to my own deck, I use King Harald's Revenge on Tajuru to great effect.
4 months ago
I completely forget that Lead the Stampede is in Standard from Ikoria. Lead is an engine with Elves to recover or go over the top. It lets me have much more freedom with nonElf creatures in the sideboard. With 32 creatures and only 22 lands I avg. about three creatures for each Lead which is great value.
Lead has replaced Canopy Tactician . Tactician four drop anthem and ramp after is not as good as of value as a three drop spell that right away can put Elves into my hand. With Lead Skemfar Shadowsage is a better four drop than Tactician. Tajuru Blightblade has replaced Blizzard Brawl for more Elves for Lead. Brawl is a good one drop fight spell for green and Snow. Ironic, it's actually very good with Blightblade's deathtouch, but I don't think I need Brawl.
---
I've finished the first version of the sideboard. It's not matchup specific since we don't know yet what the new Standard meta with Kaldheim will be. Right now there's something for when against aggro, midrange and control. There's some grave hate as well as some artifact/enchantment removal. I think it covers a lot of matchups and cards that Elves may have a problem with. Because of main deck Lead and Skemfar Avenger , I think Elves are well positioned against Doomskar .
Thorn Mammoth is tech for midrange matchups. Mammoth triggering when it ETB and repeatable whenever any creature I control ETB including an Elf token can wreck opponents creatures. It can fight fliers and 6/6 is higher than most of the other creatures who could give Elves trouble. There's still ramp with Jaspera Sentinel and Sculptor of Winter to help to cast a seven drop.
Toski, Bearer of Secrets is for midrange matchups, but also tech for control matchups. It's repeatable draw with an Elf swam, nice with Elves with deathtouch. Against control it's uncounterable as well as survives Doomskar. Liliana's Standard Bearer is tech against board wipes and it counts Elf tokens that die.
4 months ago
There are a few cards making very little sense to me:
Primal Amulet - Right now you're running 4 instants & sorceries.

Library of Leng - Are you drawing that much? Is your meta that full of discard? Reliquary Tower would be a better fit unless your meta is really heavy on discard.

Grinding Station - You're playing few artifacts. I think I counted 13. Might be wrong though. Still, most of those artifacts are stuff you don't want to sac.

Tower Above + Bequeathal - Your commander gives shroud to most of your creatures. You don't want to target them 99.9% of the time. Considering your commander and the fact that people will try to get rid of it asap I might go with Myth Unbound.

Most of the lands coming into play tapped. Most of them are subpar.

Adaptive Automaton - Elves have more than enough lords. No need for a non-green creature.

Allosaurus Rider - Although I'm not against this card per se, I think you'll need to play more stuff to make it work. Blighted Woodland and Myriad Landscape + Kodama's Reach and whichever other mana ramp you can add to the deck.

Beast of Burden - There are elves that do this. Heedless One, Jagged-Scar Archers and Drove of Elves (which you're playing) are elves and they get shroud from the commander. The 1st has trample, the 2nd kills fliers and the 3rd has hexproof which is good when your commander is out.

Bloom Tender - This card belongs in multicolored decks. Preferably 3 or more colors. You have several elves that tap for G, costing 1 cmc. At 2 cmc you'll prefer Priest of Titania.

Fangren Marauder - High CMC, triggers on artifacts destroyed only and does something that comes natural to elves: lifegain. Wellwisher is way better.

Llanowar Mentor - You're not playing madness, I don't see anything to abuse cards from your grave... Freyalise, Llanowar's Fury is way better.

Mishra's Self-Replicator - Feeds Grinding Station, I know. Still, not that good, I believe.

Scattershot Archer - Unless you're seeing lots of x/1 fliers on your meta, this is pointless. Hurricane, Tornado Elemental, Whirlwind and so many other cards are better.

Shaman of Spring - Masked Admirers does the same, has the same cmc and is repeatable.

Silhana Wayfinder - I'd prefer Wood Elves.

Spire Tracer - Meh.

Weatherseed Elf - Might work if you find a way of turning your non-green opponents lands into forests. My fav way is Deepwood Elder.
Some cards you might consider:
Load more