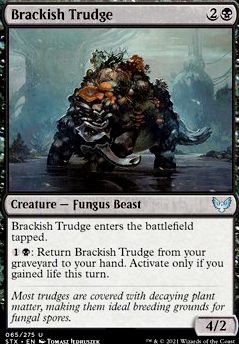 Brackish Trudge
Creature — Fungus Beast
This enters the battlefield tapped.
: Return this from your graveyard to your hand. Activate this ability only if you gained life this turn.
Latest Decks as Commander
Brackish Trudge Discussion
5 months ago
Where's the Lamb SAUCE?!
Nice deck though! I saw you had Brackish Trudge in there, and let me introduce you to one of my old favorite combo buddies, Reassembling Skeleton . Works wonders for me and it seems to be something the Chef may want.