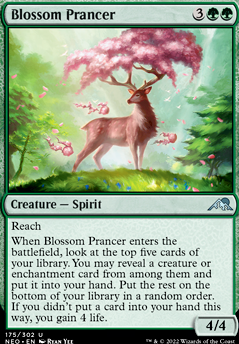 Legality
Blossom Prancer
Creature — Spirit
Reach
When this enters the battlefield, look at the top five cards of your library. You may reveal a creature or enchantment card from among them and put it into your hand. Put the rest on the bottom of your library in a random order. If you didn't put a card into your hand this way, you gain 4 lfie.
5 months ago
All the forests and islands. My biggest piece of advice for modern is to invest in shock and fetch lands (in this case Breeding Pool and Misty Rainforest). They are going to be on the expensive side. But also long after you tune and re-tune this deck, maybe even tear it apart and build an entirely new deck. All the other cards may be different but you WILL need this same fetch and shock lands. They are the best investment you can make early on and you will feel the deck's consistency grow to reflect the improved mana base.
Next, as wallisface said, push towards 4 of each card. It's not a hard rule but it will improve your deck immensely to focus an a plan instead of many things that may be good together.
Examples:
Bioessence Hydra, but you only have 2 planeswalkers in the deck. You should cut the hydra or focus on planeswalkers and bump to 4 hydras
Blossom Prancer but you only have 5 enchantments
Rootcoil Creeper but only 1 card with flashback
Tasha's Hideous Laughter is the only mill card you have
The deck is a good start but you need to focus it and bring it down to 60 cards