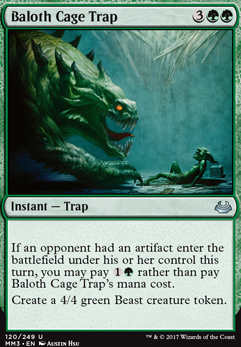 Baloth Cage Trap
Instant — Trap
If an opponent had an artifact enter the battlefield under his or her control this turn, you may pay rather than pay Baloth Cage Trap's mana cost.
Create a 4/4 green Beast creature token.
Browse Alters
View at Gatherer
Tokens
Legality
| | |
| --- | --- |
| Format | Legality |
| Vintage | Legal |
| Commander / EDH | Legal |
| Tiny Leaders | Legal |
| Highlander | Legal |
| Limited | Legal |
| Leviathan | Legal |
| 1v1 Commander | Legal |
| Oathbreaker | Legal |
| Modern | Legal |
| Block Constructed | Legal |
| Canadian Highlander | Legal |
| Duel Commander | Legal |
| Casual | Legal |
| Unformat | Legal |
| 2019-10-04 | Legal |
| Legacy | Legal |
Latest Decks as Commander
Baloth Cage Trap Discussion
1 year ago
hello mr. durtee i just wanted too say hey cool nice deck but your playing too many creatures like what if you get field swiped dude?? haha wouldnt that be crazy any way you should make it a landless stacks control prison combo storm deck with blue i herd those were good okay thanks you john bye
I'm going to try to order these from my most to least recommended.
Mirror March: I get making token copies, even if it's only nontoken creatures. What I can't get behind is costing 6 and STILL HAVING A 50% CHANCE OF DOING NOTHING.
Spirit Bonds: Ignoring the weak payoff of the spirit token (at least by edh standards), paying five mana and sacrificing a specific creature to protect one guy for one turn is pretty lame. You can't even protect your seance tokens because they're spirits.
Mercy Killing: If you choose an opponent's creature, they get the tokens. If you choose your own guys, you're going wide at the cost of two cards.
Eyes of the Wisent:
Emrakul's Evangel: I can't see what he does other than act like a one-time sac outlet that you have to wait for. 3/2 is going to be pretty close to what you're usually sacrificing anyway.
Huatli, Warrior Poet: Her token is cool, but her other abilities are really weak for the cost. Also she got a tiny booty.
Caller of the Claw: He'd be like a backup Fresh Meat if he counted the tokens too. 1 less mana for 1 less p/t would have been alright. Too bad.
Summoner's Pact: Kind of a weak creature tutor since you aren't playing toolbox or gunning for combo. Only green too.
Hornet Nest: Deathtouch flyers are good, but you don't have a way to damage it yourself and you probably have bigger threats than getting hit by birds.
Hoofprints of the Stag: Unless you add a lot more draw, these stags take forever to come out.
Godsire: Nice token, but he's got no haste or protection, which means you have to wait for the token while this dumbass sits there waiting to see if anyone around the table wants to remove him. Could be alright if you cheat him out reliably.
Regisaur Alpha: Neat to make a token copy of, but just under the bar on his own.
This is all in no particular order.
Assemble the Legion : So I heard you run doubling season. But really, you know what this does to games.
Kiki-Jiki, Mirror Breaker : Splinter Twin backup. Makes infinite tapped kikis with helm, in case you needed that.
Huatli, Radiant Champion : Easy to gun for the emblem, with an alright mid ability
Nacatl War-Pride : Forcing blocks means the rest of your creatures get through, or that you can divvy up the copies to other players. Gets really crazy the next turn when you populate one of the tokens. Absolutely insane if you get an additional combat.
Heroic Intervention : Boring, but necessary
Teferi's Protection : Extra boring, but even more necessary since it's the only answer to biff out there that isn't countering it.
Selfless Spirit : Not as boring since you can make a token copy of it for repeat use.
Baloth Cage Trap : Wow, when does anyone play an artifact in edh?!?! stupid card
Sneak Attack : Cheats creatures out with haste at instant speed for one mana and puts them in the grave to seance afterwards.
Gate to the Afterlife / God-Pharaoh's Gift : Kind of an investment, but a permanent Seance with haste is no joke.
Survival of the Fittest : Puts big boys in grave, and any creature you want in hand.
ok thanks for coming to my ted talk bye
1 year ago
You mention that you are using Ikra Shidiqi, the Usurper just to add green mana. If you don't really use her for the life gain I might suggest you use Tana, the Bloodsower . The few extra chump blockers might be helpful and occasionally you may make a small army.
I see a lot of X spells here I imagine that is to take full advantage of Vial Smasher the Fierce , but you also mention that you cmc is a bit high. Delve is a good answer to this problem, cards like Tasigur's Cruelty and Dead Drop can be cast for only one mana. I see you have Murderous Cut , but see what else fits your style.
You seem creature light Bedlam Reveler and Ancient Stone Idol might be nice, both have reduced costs and the idol has flash so you can always play it when someone else is being attacked.
Baloth Cage Trap is also a way to cheat mana costs and make a creature. A few other trap cards might help bring down the cost as well. Needlebite Trap and Nemesis Trap are fun depending on your playgroup.
2 years ago
I hope you don't mind, I'd like to make this the base of my next cube project. A skeleton if you're cool with it.
Also worth noting in a cube like this Baloth Cage Trap is always a 4/4 for 2 with flash, which may be on the stupid powerful side and Trygon Predator is probably straight unbeatable.
2 years ago
Okay. Sorry I'm late, so I'll make it a good one.
Group hug-ish: Akroan Horse, Alliance of Arms, Sylvan Offering.
Matchup-Dependent: Eyes of the Wisent, Fresh Meat (after a wrath), Hellion Eruption, Kazuul, Tyrant of the Cliffs, Luminarch Ascension, Night Soil, Phyrexian Rebirth.
Maybe too expensive: Ant Queen, Deploy to the Front, Devout Invocation, Elspeth, Sun's Champion, Ezuri's Predation, Godsire, Soul of Zendikar.
Maybe too slow: Assemble the Legion, Awakening Zone, Dragonlair Spider, Elspeth, Knight-Errant, Freyalise, Llanowar's Fury, From Beyond, Growing Ranks, Imperious Perfect, Jade Mage, Kazandu Tuskcaller, Krenko, Mob Boss, Rakka Mar, Vitu-Ghazi Guildmage.
Awesome: Artifact Mutation, Aura Mutation, Baloth Cage Trap, Brimaz, King of Oreskos, Hanweir Garrison, Hero of Bladehold, Martial Coup, Nomads' Assembly, Oketra the True, Sacred Mesa, Sram's Expertise, Sundering Growth, Tempt with Vengeance, Tilonalli's Summoner, Trostani, Selesnya's Voice.
So yeah. Quite a list eh? Had to comb through 660 cards. So like... there's a lot.
4 years ago
I think Essence of the Wild is better than Spawnwrithe, you could probably understand why.
Mirari's Wake could probably fit in here instead of the Centaur Glade, as the glade's effect seems rather slow, and weak.
Beast Attack is easily replaceable by Baloth Cage Trap if you really want that kind of effect.
Farseek and Nature's Lore are worse Cultivate and Kodama's Reach.
Ajani, Mentor of Heroes looks sweet, but may end up being a trap, as he actually doesn't do much with either +1, and it may be better to run more repeatable Token Generators, like Sacred Mesa, or Captain's Claws.
Song of the Dryads, Beast Within, and Lignify might be good if you need extra removal, as only 2 Removal cards might be too few.
Craterhoof Behemoth seems strange as a missing piece, I'd recommend dropping Emmara Tandris or Hushwing Gryff.
Seems like more Glorious Anthem effects might not be a bad idea here either, A Spear of Heliod, and maybe an Intangible Virtue are likely to not let you down at any point in the game. Maybe shove out a Sculpting Steel, and a Vessel of Endless Rest.
Seems like a good place for Both Odric's (Odric, Lunarch Marshal, and Odric, Master Tactician). You pump up with a ton of abilities and +1/+1's, and slam in however you want with Odric's masterful tactic.
I may come back with more Suggestions, as I'm running a bit short on time right now, so I hope you take some of my suggestions to heart, and I wish you the best of luck with your deck!