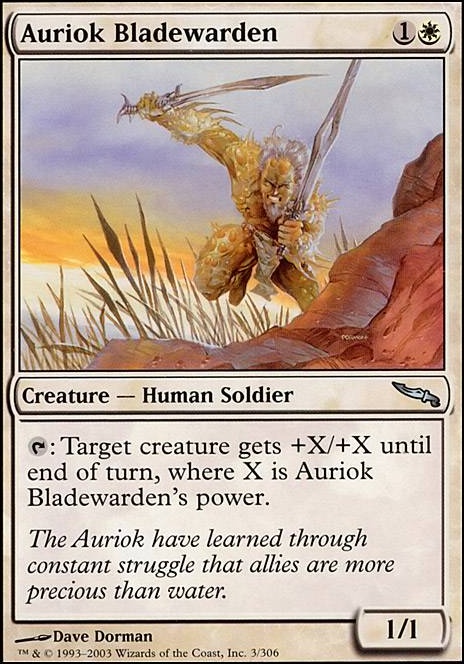 Auriok Bladewarden
Creature — Human Soldier
Tap: Target creature gets +X/+X until end of turn, where X is Auriok Bladewarden's power.
Latest Decks as Commander
Auriok Bladewarden Discussion
1 month ago
Hey, here are some changes I might recommend while still staying on a budget. Fist, for a voltron deck I would probably drop the creature count a little bit as 29 is a little high. For this build I would probably eye something around 22-25. Also your land count is very low, I would bring that up to about 36 lands with several ways to search for lands, that will allow you to have plenty of mana and cast the bigger stuff in your deck.
Next, I would cut some cards that seeming underwhelming. Those are: Auriok Edgewright Auriok Bladewarden Fireblade Charger Leonin Relic-Warder , Evra, Halcyon Witness Shimmer Myr Spikeshot Elder , Wayfarer's Bauble ill talk about this one below, Leonin Bola Neglected Heirloom  Flip Berserkers' Onslaught . So yeah once you know what to cut, it becomes very easy to make a bunch of additions.
Im not sure if you are married to the $50 budget, most of my suggestions here will be about $1 a piece but here's what I would add. First as mentioned we want better mana production, so you'll want Gift of Estates and Armillary Sphere over wayfarers bauble. In 700 games of commander, I've found that armillary sphere is just better than bauble for many reasons I wont go into right now. Fervent Champion , Sun Titan Kazuul's Toll Collector , 4 basic or flip lands, Flamekin Village Blackblade Reforged . Berserkers Onslaught can be a straight switch for True Conviction . Fleetfeather Sandals . Because your mana production is getting better, you can go just a little bigger on the top end of your deck. I might put 1 or 2 bigger equipments at the top end like Argentum Armor or maybe even a Scytheclaw . I would add Dismantling Wave and a Tome of Legends .
Here's some other very good cards on a budget that I might consider Forging the Tyrite Sword to cheap tutor, Ignite the Future excellent card draw Showdown of the Skalds also great card draw. Theres a whole package of cards you can use with Goblin Welder Goblin Engineer and Daretti, Scrap Savant and if you add those I would add a Neheb, Dreadhorde Champion . Because you have Toralf I might consider a few more red based board wipes like Chain Reaction or Magmaquake but i wouldnt say no to a Fumigate or a Rout either.
Anyway that should give you plenty to think about for now. Enjoy!