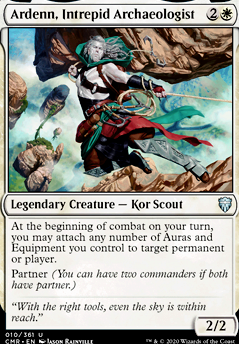 Arden, Intrepid Archaeologist
Legendary Creature — Kor Scout
Browse Alters
Legality
| | |
| --- | --- |
| Format | Legality |
| 1v1 Commander | Legal |
| Canadian Highlander | Legal |
| Commander / EDH | Legal |
| Duel Commander | Legal |
| Highlander | Legal |
| Legacy | Legal |
| Leviathan | Legal |
| Limited | Legal |
| Oathbreaker | Legal |
| Tiny Leaders | Legal |
| Vintage | Legal |
| Casual | Legal |
| Custom | Legal |
| Quest Magic | Legal |
Arden, Intrepid Archaeologist Discussion
3 months ago
My decks tend to have a pattern of meiosis. I started out building a few two-color decks, but in time, I ended up splitting the colors, each half of the deck growing out to their individual outspoken parts.
What started as a Mina and Denn, Wildborn landfall deck, became on one hand a mono green landfall deck with Rhonas the Indomitable in charge, which very recently changed into Omnath, Locus of Mana big green ramp. On the other hand, the red half melded into Etali, Primal Storm big red, big burn deck, that's now helmed by Kumano, Master Yamabushi .
My Athreos, God of Passage aristocrats deck split into Rankle, Master of Pranks and Heliod, God of the Sun the same way, and my The Locust God deck split into Neheb, Dreadhorde Champion and a mono blue deck, now led by Naru Meha, Master Wizard .
Out of the 13 decks I currently have, 8 of them are monocolored and one of them is colorless. The multicolored decks that remain, are held together by synergies that demand more than one, like Boros equipments ( Akiri, Line-Slinger + Arden, Intrepid Archaeologist ) , Jund Sacrifice ( Vaevictis Asmadi, the Dire ), Temur Landfall Omnath, Locus of the Roil and 5C Shrines (Golos, by lack of inspiration). But now that I have two different Omnath decks, I have an itch to build the other two Omnaths as well. That's pretty much how my patterns keep changing, a new line connecting current decks usually leads to inspiration to build the next.
I do notice my developed preference for monocolored decks, but I don't feel hindered by this way of thinking. I like leaning into it, finding cool ways within the limits of the color, to make the decks suprising anyway, to make them as interesting as can be for me to play.