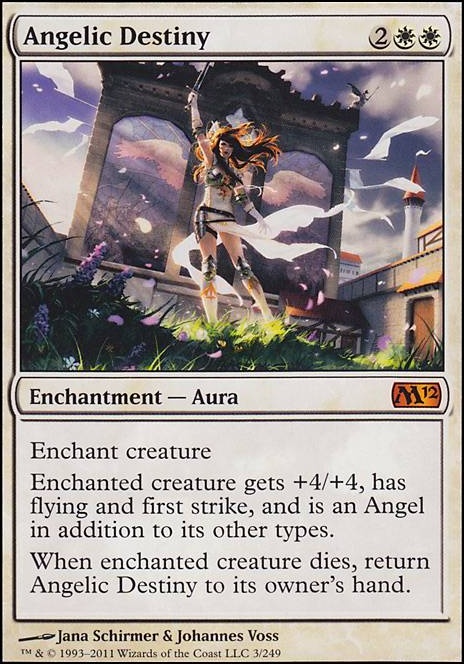 Angelic Destiny
Enchantment — Aura
Enchant creature
Enchanted creature gets +4/+4, has flying and first strike, and is an Angel in addition to its other types.
When enchanted creature dies, return Angelic Destiny to its owner's hand.
Latest Decks as Commander
Angelic Destiny Discussion
2 months ago
I have a few additions to the above response--it answered your main question, but I wanted to make sure your question of "what exactly is a creature type?" was fully explained as well.
"Creature Types" are the subtypes relevant to Creatures and Tribal Cards (ex. Elvish Promenade). The 261 (as of the time of writing) different types of creature type are defined by Rule 205.3m, which is fairly lengthy so I have covered it by the spoiler block below.
As noted in the above answer, each of these exist independently from one another, so a creature that "Creature - Elf Warrior" is both an Elf and Warrior.
However, there are a few points I think are also worth mentioning:
If your Winnower Patrol gains a creature type, such as with Angelic Destiny, then it will be a Creature - Elf Warrior Angel, and any of those three creature types could implicate Kinship. Or if it loses creature types, such as with Darksteel Mutation, it will only have the relevant creature types (Insect in this example).

As noted above, Tribal cards also have creature type. Winnower Patrol's kinship ability will "see" Elvish Promenade because Promenade shares the Elf creature type, even though it is not a creature.

Changeling is a characteristic defining ability that means the card has all creature types. Kinship will see a card with changeling, such as Woodland Changeling or Crib Swap.
Creatures and tribals share their lists of subtypes; these subtypes are called creature types. The creature types are Advisor, Aetherborn, Ally, Angel, Antelope, Ape, Archer, Archon, Army, Artificer, Assassin, Assembly-Worker, Atog, Aurochs, Avatar, Azra, Badger, Barbarian, Bard, Basilisk, Bat, Bear, Beast, Beeble, Beholder, Berserker, Bird, Blinkmoth, Boar, Bringer, Brushwagg, Camarid, Camel, Caribou, Carrier, Cat, Centaur, Cephalid, Chimera, Citizen, Cleric, Cockatrice, Construct, Coward, Crab, Crocodile, Cyclops, Dauthi, Demigod, Demon, Deserter, Devil, Dinosaur, Djinn, Dog, Dragon, Drake, Dreadnought, Drone, Druid, Dryad, Dwarf, Efreet, Egg, Elder, Eldrazi, Elemental, Elephant, Elf, Elk, Eye, Faerie, Ferret, Fish, Flagbearer, Fox, Fractal, Frog, Fungus, Gargoyle, Germ, Giant, Gnoll, Gnome, Goat, Goblin, God, Golem, Gorgon, Graveborn, Gremlin, Griffin, Hag, Halfling, Hamster, Harpy, Hellion, Hippo, Hippogriff, Homarid, Homunculus, Horror, Horse, Human, Hydra, Hyena, Illusion, Imp, Incarnation, Inkling, Insect, Jackal, Jellyfish, Juggernaut, Kavu, Kirin, Kithkin, Knight, Kobold, Kor, Kraken, Lamia, Lammasu, Leech, Leviathan, Lhurgoyf, Licid, Lizard, Manticore, Masticore, Mercenary, Merfolk, Metathran, Minion, Minotaur, Mole, Monger, Mongoose, Monk, Monkey, Moonfolk, Mouse, Mutant, Myr, Mystic, Naga, Nautilus, Nephilim, Nightmare, Nightstalker, Ninja, Noble, Noggle, Nomad, Nymph, Octopus, Ogre, Ooze, Orb, Orc, Orgg, Otter, Ouphe, Ox, Oyster, Pangolin, Peasant, Pegasus, Pentavite, Pest, Phelddagrif, Phoenix, Phyrexian, Pilot, Pincher, Pirate, Plant, Praetor, Prism, Processor, Rabbit, Ranger, Rat, Rebel, Reflection, Rhino, Rigger, Rogue, Sable, Salamander, Samurai, Sand, Saproling, Satyr, Scarecrow, Scion, Scorpion, Scout, Sculpture, Serf, Serpent, Servo, Shade, Shaman, Shapeshifter, Shark, Sheep, Siren, Skeleton, Slith, Sliver, Slug, Snake, Soldier, Soltari, Spawn, Specter, Spellshaper, Sphinx, Spider, Spike, Spirit, Splinter, Sponge, Squid, Squirrel, Starfish, Surrakar, Survivor, Tentacle, Tetravite, Thalakos, Thopter, Thrull, Tiefling, Treefolk, Trilobite, Triskelavite, Troll, Turtle, Unicorn, Vampire, Vedalken, Viashino, Volver, Wall, Warlock, Warrior, Weird, Werewolf, Whale, Wizard, Wolf, Wolverine, Wombat, Worm, Wraith, Wurm, Yeti, Zombie, and Zubera.
6 months ago
Deck looks good overall, here are some thoughts I had after reading it:
Pacifism is pretty bad, and you don't really have any aura synergies with it. Iff you really want 8 removal spells, Journey to Nowhere is just way better. I think you could probably cut down to 6 total removal spells though since you have Skyclave Apparition . You could also try running Prismatic Ending , replacing a plains with a Sacred Foundry or something like that for a third color (and maybe adding some extra fetches).
I can't help noticing that you don't have any dig like Collected Company or tutors like Chord of Calling . CoCo is might not be the best here since you only have 22 hits which is far from enough. I think Chord of Calling is worth considering, especially if you decide to go for a more toolbox-valuetown build (maybe with some Sanctifier en-Vec , Auriok Champion , and Sanctum Prelate mainboard). It's probably fine without either of those but I just wanted to throw out some ideas.
You also don't have any real turn 1 plays, since Path to Exile and Rancor don't really count. Imo you should really have at least a few, so you don't start off every game already losing tempo on the first turn. The first suggestion I have for a 1 drop is Noble Hierarch , which makes all the types of mana you need early game and has some use mid-late game with exalted. She can also make blue mana if you want to exile a 3 cmc permanent with Prismatic Ending (so the foundry is probably not needed). My other suggestion is Esper Sentinel , since he either stalls the game by taxing your opponent or gives you tons of card advantage. Stick a Rancor , Angelic Destiny , or Wilt-Leaf Liege and you'll be drawing cards all day.
Happy brewing :)
1 year ago
Get rid of Angelic Destiny, you don't need to attach that to the smaller creatures. Instead, put those 4 cards on removal like Cast Out or Path to Exile. One problem people face when deck building is they have this great synergy with their cards but have only 1 full set of removal. Once the opponent removes some of the combo pieces you can't do much until another piece comes and then you have to think about it if they have a way to immediately remove it before you can put it down the field. Having at least 2 sets of removal will help to also disrupt their combo so you can continue yours.
1 year ago
TheRoaringRegisaur I really like Angelic Destiny and I think it gives this deck a good way to force damage through that my other enchantments lack, but my main reason for not adding it yet to the list is that its cost is a little high, given the budget imposed on this deck list. I really like the suggestion though!
Load more