I think you are gravely mistaken.
it says exiled with rona and that's it.
It says nothing about just counting for the abilities.
If rona gets any other exile interactions, they must work with that line of text.
Also, there is still no answer to what cards causes the exile as a source.
April 9, 2018 4:36 p.m.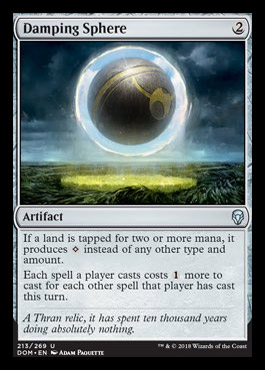 RIP Tron-decks
Maybe also rip Storm.
This card is going in every modern sideboard.
April 5, 2018 1:13 p.m.
Hi,my question would be, if I have the new card Rona, that allows you to cast stuff you exile with her, and enchant her with Kumano's Blessing that says "If a creature dealt damage by enchanted creature this turn would die, exile it instead.", can I cast my opponents creature?
What is the source of the exile - Rona or the enchantment?
April 3, 2018 11:48 a.m.
Decks

Standard ------
SCORE: 4 | 12 COMMENTS | 691 VIEWS

Modern ------
SCORE: 2 | 1 COMMENT | 275 VIEWS

Standard ------
SCORE: 1 | 175 VIEWS

Standard ------
SCORE: 4 | 4 COMMENTS | 511 VIEWS | IN 1 FOLDER

Standard* ------
SCORE: 8 | 1 COMMENT | 1973 VIEWS | IN 1 FOLDER
| | |
| --- | --- |
| Finished Decks | 278 |
| Prototype Decks | 207 |
| Drafts | 0 |
| Avg. deck rating | 4.79 |
| T/O Rank | 1988 |
| Helper Rank | None yet |
| Good Card Suggestions | 9 |
| Last activity | 1 week |
| Joined | 3 years |