Aether Revolt/Kaladesh Standard Combos
Posted on Jan. 6, 2017, 6:43 p.m. by ArmyJM07
Ok if we don't see combo decks in the new meta I will be surprised so, if you didn't know already in Kaladesh we already had an infinite combo with;
2 Decoction Modules and Panharmonicon equate to infinite energy with the Virtuoso leading to infinite thopters.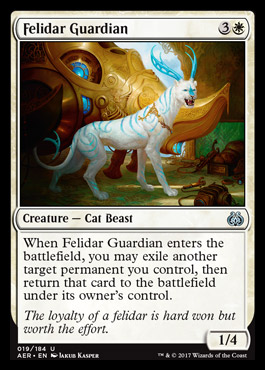 -2 Saheeli Rai copy Felidar Guardian ETB Triggers from the new guardian target Saheeli, Saheeli ETB with 3 loyalty no activations; repeat = infinite hasty Felidar Guardians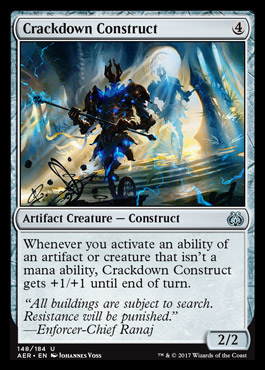 With Crackdown construct in play you can activate wandering Fumarole and then trigger its "switch power & toughness" clause for Zero an infinite number of times leading to massive Construct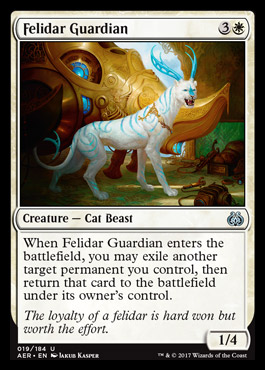 With two Felidar Guardians and a Panharmonicon in play you may stack two triggers of the Guardian one targeting the opposite guardian and the other targeting any other permanent with an ETB trigger.
Paradox Engine decks aren't truly infinite, but once you get Cryptolith Rite + a few "tap to draw" creatures it quickly approaches a point where you can easily achieve an arbitrarily high amount of mana and cards. It's worth including because it could be a competitive deck. You can also make infinite mana combos if you use Eldrazi Displacers, 4 Loam Dryads, and 4 other creatures but that's obviously terrible.
2 Felidar Guardians and something like Ninth Bridge patrol work.
January 6, 2017 6:58 p.m.
January 6, 2017 7:01 p.m.
ArmyJM07,
Thanks so much for pointing out Combo 2!
Maybe in a Temur build, with Barrage Tyrant and a ton of ramp?
January 6, 2017 7:13 p.m.
EDIT: Or even better: In an Izzet Colossus shell! >:-)
January 6, 2017 7:19 p.m.
Your guardians get haste from saheeli. It's legitimately just the splinter twin combo, you can attack and win that turn.
January 6, 2017 7:20 p.m.
By the way, you can also break Crackdown Construct with 2x Kazuul's Toll Collector and any Equipment. Just equip one and then the other , an arbitrarily large number of times :-)
January 7, 2017 6:28 p.m.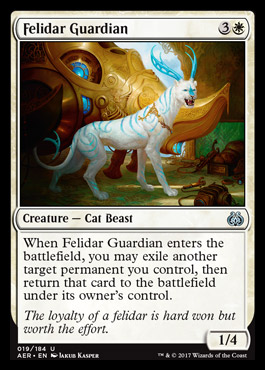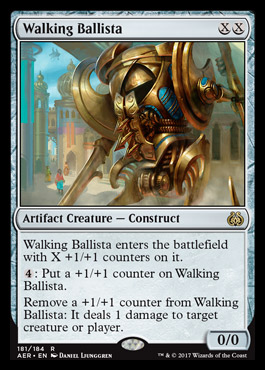 Recent Development tinkering around with deck ideas for the Saheeli Rai and Felidar Guardian combo/Panharmonicon etc. combo I rediscovered Crumbling Vestige provided you have Panharmonicon in play at the time the guardians can combo off with each other to generate infinite mana to use with any of you . This combo is one that can easily be placed into the shell of the Saheeli Guardian deck, without cutting any important parts, more importantly we can exploit Panharmonicon with out ETB triggers for value to help us reach our combo in multiple ways. 

  So for example I have two Felidar Guardians, or a Felidar Guardian in hand and a Wispweaver Angel with Panharmonicon in play you can target two triggers of the Guardian at an Eldrazi Skyspawner giving you 2 Eldrazi Scion tokens; you could do the same with Wispweaver; In some cases this will give you than mana you need to combo out. 

  Another infinite mana combination with the Eldrazi Skyspawner is if you have the Panharmonicon and two of your guardians this will give you infinit Scions, if you happen to have a Thraben Inspector you can generate more than enough mana to either play it or anything in your hard for that matter, if the Inspector happens to be in play you can generate infinite Clues to draw yourself into a win con. There are a lot of interesting things you can do with these Guardians only time will tell.
January 7, 2017 10:45 p.m.
This discussion has been closed