Once upon a Time - I think this card will be banned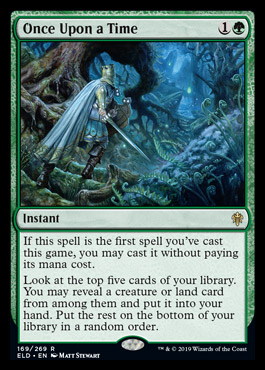 This card is Ancient Stirrings on steroids. I honestly think almost every green deck (that has creatures) will play this. If you play Noble Hierarch , this card gives you 5 more chances of having one in your opening hand. Or 5 more chances at a prison creature. It fixes your mana: if you have a 1 land in hand, this is pretty reliably a 2nd land. And if you have enough mana already, this gives you gas. And I definitely think this is way way too good for Tron in modern.
What gets me is that you can play this on turn 1 for free. And on later turns it's only 2 mana to cast and it's still a great effect.
I have no idea how this card made it through the testing process. It looks insane. I will be shocked if it is not banned in modern within months. I suspect it will find its way to the ban list in legacy as well, but I'm not as confident.