When Lands Become Your Worst Nightmare
Commander / EDH* Combo Four Color Infinite Combo Multiplayer Primer
Creature (30)
Sorcery (6)
Planeswalker (1)
Commanders
Instant (9)
Enchantment (8)
Artifact (5)
Maybeboard (6)
---
Description
Updates
Comments
Volrath's Stronghold? All of the Combo Payoffs with Infinite Landfall Triggers are creatures so I'm thinking the ability to get them or other creatures back would be useful, especially on a land. Also it keeps you from milling if it comes to that.
June 19, 2017 12:03 p.m.
Thephelddagrif: Great suggestion, I might have to find some space for it. Thanks!
June 19, 2017 12:17 p.m.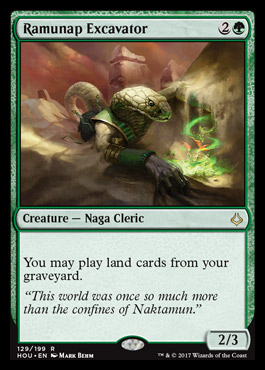 should be considered for an additional Crucible effect! Maybe even Squandered Resources to go along with Splendid Reclamation?
June 19, 2017 12:21 p.m.
n0bunga: Awesome suggestions and Ramunap Excavator is literally Godsend. It's like the second coming of Christ for landfall decks. So excited to get my hand on that!
June 19, 2017 12:30 p.m.
Enral oh yeah dude, it's going straight to my Gitrog Monster deck!
June 19, 2017 12:33 p.m.
Daedalus19876: Thanks for your suggestions. I like the suggestion of Retreat to Hagra...tainted pact seemed kinda scary to be exiling a bunch of cards..could be worth testing out to find that last combo piece. I like Tempt with Discovery and I used to run it in my angry omnath..my playgroup however caught on and did not take the bait for this card to be worth it anymore unfortunately. Enlightened tutor is definitely going in!
June 19, 2017 5:05 p.m.
Just found out about the new card mirror image which combos with Dark Depths...oh my..HOU is already giving me so many new toys!
June 19, 2017 5:07 p.m.
Hope Tender (HOU)
1GCreature--Human Druid
1, T: Untap target land.
1, T, Exert ~ : Untap two target lands
2/2
June 22, 2017 10:56 a.m.