Creature (20)
Instant (12)
Sorcery (2)
Land (24)
Planeswalker (3)
---
Description
Updates
Comments
Like the idea, but I think white is too much. How about adding 4x [Forbidden Alchemy] and maybe a single [Bloodshot Trainee] to fill your graveyard and help deal with pesky creatures?
October 7, 2011 1:56 p.m.
Just wondering, but your deck gave me another idea. With Mirror-Mad Phantasm in the graveyard and an active Ooze on the battlefield along with a Laboratory Maniac (not in this deck list, but for a different combo idea) would you be able to shuffle the Ooze and since the only Mirror-Mad is in the graveyard, mill your deck and win on your upkeep?
October 7, 2011 2:04 p.m.
Final thoughts...if you decide to keep white in, add Mikaeus, the Lunarch. Gringrim's +1/+1 s could be taken off indefinitely to pump your other creatures.
Brew on!
October 7, 2011 2:09 p.m.
My initial list had 4x Forbidden Alchemy and I kept cutting them to up my creature density. Found more often then not, having non-creature based draw made my Civilized Scholar Flip Flip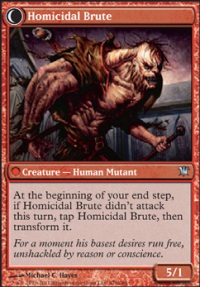 chains with Necrotic Ooze not hit every time.
Red actually has been a strong consideration. I would need to drop white inorder to do it, as 4 color seems rather rough. It gives you access to some pretty cool cards to deal with early aggressive decks. The 2 mana mage from M12 looked like another cheap way to give Necrotic Ooze haste.
Thanks for the comments!
October 9, 2011 12:25 a.m.
drop the white, add 3 small pox. Drop skittles and a land and add in 2 jace
October 11, 2011 1:54 a.m.
What about adding Tree of Redemption
and gaining infinite life??
January 27, 2012 8:12 p.m.
| | |
| --- | --- |
| Date added | 6 years |
| Last updated | 6 years |
| Legality | This deck is Modern legal. |
| Cards | 61 |
| Avg. CMC | 3.14 |
| Tokens | 2/2 Vampire |
| Views | 4931 |