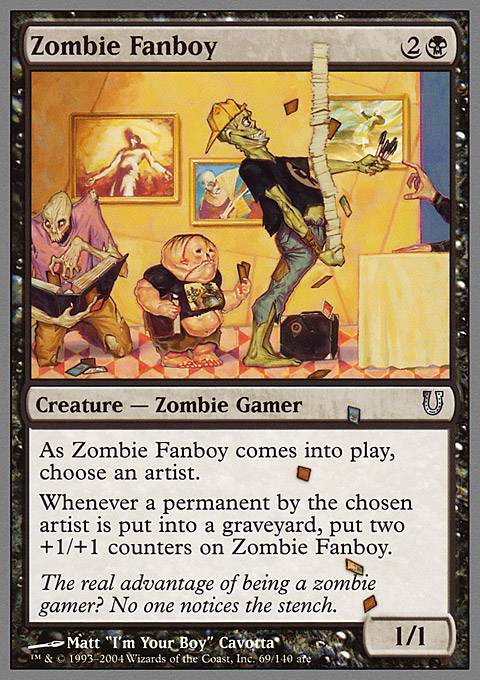 Legality
Not legal in any format
Zombie Fanboy
Creature — Zombie Gamer
As Zombie Fanboy enters the battlefield, choose an artist.
Whenever a permanent by the chosen artist is put into a graveyard, put two +1/+1 counters on Zombie Fanboy.
Zombie Fanboy Discussion
11 months ago
Cryptbreaker - Great for dumping creatures into the graveyard, making tokens, and drawing you cards.
Death Baron - Not a budget option, but highly effective.
Empty the Pits - I have a bunch of these from my Khans redemption.
Ghoulcaller Gisa - A great way to get creatures in to the bin and make a significant amount of token zombies.
Ghoulcaller's Chant - An interesting option as you can recur two zombies for one black mana.
Grave Betrayal - Similar to your commander's abilities as it steals dead creatures and makes them zombies under your control.
Graveborn Muse - Card draw FTW!!!
Gravespawn Sovereign - A spendy activated ability for an powerhouse ability.
Kalitas, Traitor of Ghet - Not all creatures need to fit the tribal theme as your commander makes them Zombies.
Liliana's Reaver - Token generation, discard effect, decent rate. Viable option.
Liliana, Heretical Healer Flip - All the value :).
Lim-Dul the Necromancer - Spendy, but another redundant stealing effect . I would consider Clone and Mind Control effects also!
Necromantic Selection A board wipe with a recursion ability.
Noosegraf Mob This card makes a ridiculous amount of zombies!
Oath of Liliana - A decent Diabolic Edict effect with an upside for adding more Liliana's. Overall the oath and the PW's are vulnerable.
Quest for the Gravelord - An interesting, cheap, enchantment with repeatable value.
Risen Executioner - Odd Zombie Lord.
Rooftop Storm - A must in any Zombie deck.
Metallic Mimic - Lord
Vizier of Many Faces - Clones!
AND OF COURSEZombie Fanboy