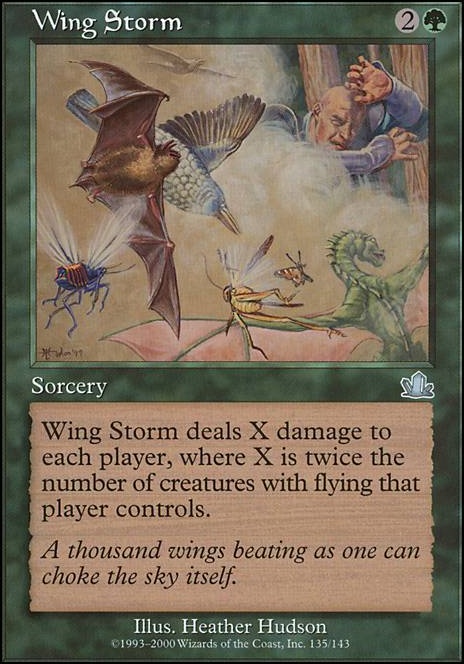 Wing Storm
Sorcery
Wing Storm deals damage to each player equal to twice the number of creatures with flying that player controls.
Browse Alters
View at Gatherer
Legality
| | |
| --- | --- |
| Format | Legality |
| Leviathan | Legal |
| Legacy | Legal |
| Casual | Legal |
| Commander / EDH | Legal |
| Vintage | Legal |
| Limited | Legal |
| Canadian Highlander | Legal |
| Oathbreaker | Legal |
| Duel Commander | Legal |
| 1v1 Commander | Legal |
| Unformat | Legal |
| 2019-10-04 | Legal |
| Tiny Leaders | Legal |
| Highlander | Legal |
Latest Decks as Commander
Wing Storm Discussion
3 years ago
Trick creatures into play:
Animal Magnetism, Aid from the Cowl, Briarbridge Patrol, Call of the Wild, Defense of the Heart, Gamekeeper, Foster, Hibernation's End, Lure of Prey, Lurking Predators, Oath of Druids, Reincarnation, Rishkar's Expertise, Selvala's Stampede, Zoologist and Wild Pair
Flying hate:
Bower Passage, Clip Wings, Downdraft, Dense Canopy, Raking Canopy, Silklash Spider, Storm Front, Wing Storm and Winter Blast
3 years ago
One glaring problem: Commander decks NEED to be 100 cards, no more and no less. If you're building for theme, take out some of the more expensive non-tarkir cards. If you don't care that much, take out some of the cards that don't synergize well. For example, you have like 3 Warrior creatures in the deck, so Herald of Dromoka doesn't really help you. There are better 2-drop creatures in white and quite possibly in Tarkir blocks.
Cards I would consider taking out: Herald of Dromoka, Seek the Horizon, Wing Storm (this one can go to sideboard for anti-flying decks), Pinion Feast (same as Wing Storm), Fleetfeather Sandals, Life's Finale (since your deck is creature focused, you don't want symmetrical board wipes), Incremental Growth, Abzan Skycaptain (only benefits when it dies, not when it enters, so it doesn't help immediately), Longshot Squad to sideboard, Krosan Reclamation.
I would also recommend taking out Fertile Thicket for a forest, and taking out 2 swamps.
4 years ago
As for your plea to deal with flying creatures: