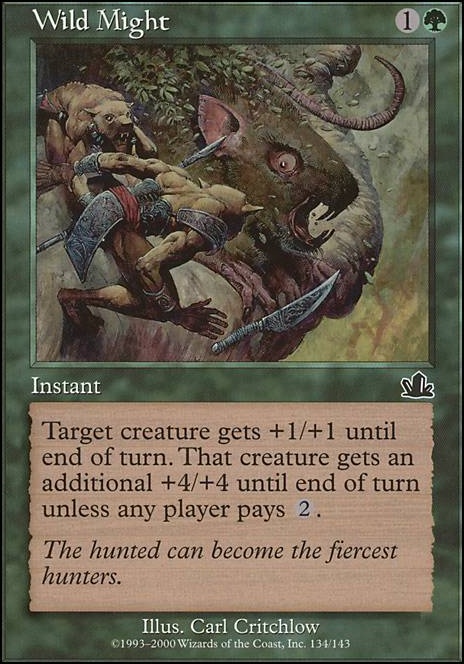 Wild Might
Instant
Target creature gets +1/+1 until end of turn. That creature gets an additional +4/+4 until end of turn unless any player pays (2).
Browse Alters
View at Gatherer
Legality
| | |
| --- | --- |
| Format | Legality |
| 1v1 Commander | Legal |
| Leviathan | Legal |
| Vintage | Legal |
| Casual | Legal |
| Pauper EDH | Legal |
| Legacy | Legal |
| Canadian Highlander | Legal |
| Unformat | Legal |
| Pauper | Legal |
| 2019-10-04 | Legal |
| Commander / EDH | Legal |
| Oathbreaker | Legal |
| Tiny Leaders | Legal |
| Duel Commander | Legal |
| Highlander | Legal |
| Limited | Legal |
Latest Decks as Commander
Wild Might Discussion
11 months ago
This was my first ever PDH build. I built it with 21 commander damage in mind, which isn't actually that hard to obtain on turn 3. I'm considering picking it up again.
You could use some more value lands, I think. Khalni Garden is a good way to get a body in play for edict cover. The same could be said for Dwarven Mine , but it might not be easy to get to three mountains.
I found I didn't like the regenerating protection spells that much, because it removed the Slaughtermaster from combat. I would like to see something like Rush of Vitality over Boon of Erebos any day, for example.
Tainted Strike is the perfect card in your deck. You could probably also use Phyresis . It loses the surprise factor, but it works a lot better than many of your pump spells.
Wicked Reward could be good, depending on your board. Wielding the Green Dragon (if you can find a copy) could also be just another Titanic Growth effect. Wild Might is excellent in the early game, but loses value quickly. Phytoburst is better than Larger than Life. How about Screaming Fury ?
I always suggest this card in red decks: Destructive Tampering is an overpriced Shatter or Falter, but being able to do both makes this card super versatile in a game of PDH.
3 years ago
Since you don't want to splash blue for Twisted Image, Nature's Claim is a good answer for the Spellskite your opponent will bring in against you.
Also, Become Immense is a common card run in the deck, but maybe without fetches it isn't so good here. Still, think about it (maybe you cast enough spells to fuel your GY after all).
Wild Might is pretty bad, Rancor is pretty good