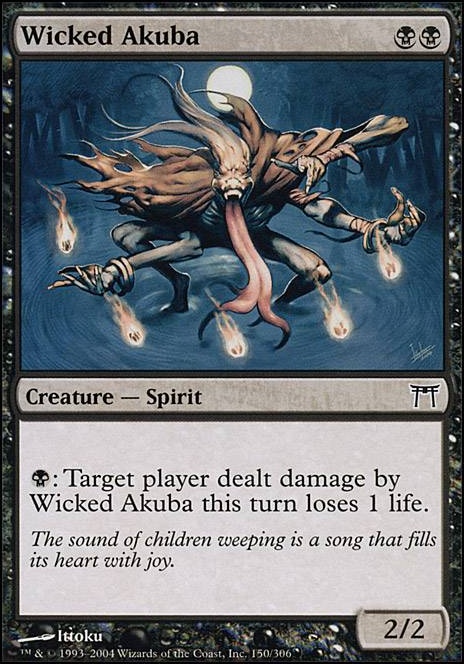 Legality
| | |
| --- | --- |
| Format | Legality |
| Modern | Legal |
| Legacy | Legal |
| Vintage | Legal |
| Commander / EDH | Legal |
| Duel Commander | Legal |
| Tiny Leaders | Legal |
| Pauper | Legal |
Wicked Akuba
Creature — Spirit
(Black): Target player dealt damage by Wicked Akuba this turn loses 1 life.
Wicked Akuba Discussion
3 weeks ago
I like what you're doing here, Dash Hopes is vicious! I think I might add it to my own deck.
There is a couple of things I don't quite agree with:
1) The play set of Wicked Akuba. It would benefit from some type of evasion, or even deathtouch, but it doesn't. More often than not, it's a bear. I think I'd rather see either another type of removal, or Chittering Rats, which has the always effective ETB effect. If your looking for something to help the devotion, another decent creature could be Dauthi Slayer: opponent can't chump block, which forces them to expend a removal spell.
2) Pharika's Cure seems too cute of a card. It's essentially a 2 cmc 4 life gain, strictly worse than Lone Missionary or Rest for the Weary, but in Black. Once again, I'd rather see some type of removal, or hand disruption, something that impacts the board state a bit more.
Thanks for sharing! You got an upvote!