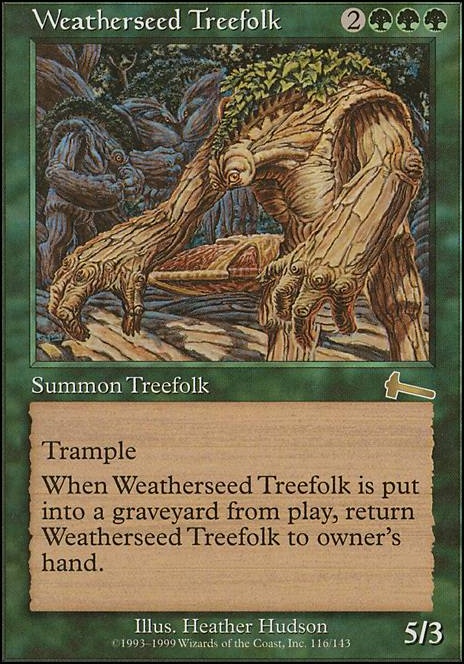 Weatherseed Treefolk
Creature — Treefolk
Trample
When Weatherseed Treefolk dies, return it to its owner's hand.
Browse Alters
View at Gatherer
Legality
| | |
| --- | --- |
| Format | Legality |
| Tiny Leaders | Legal |
| Noble | Legal |
| Leviathan | Legal |
| Magic Duels | Legal |
| Canadian Highlander | Legal |
| Vintage | Legal |
| Vanguard | Legal |
| Legacy | Legal |
| Archenemy | Legal |
| Planechase | Legal |
| 1v1 Commander | Legal |
| Duel Commander | Legal |
| Oathbreaker | Legal |
| Unformat | Legal |
| Casual | Legal |
| Commander / EDH | Legal |
Weatherseed Treefolk Discussion
11 months ago
Love the concept! gota couple suggestions, figured I'll accordian them to keep from filling up the whole page.
2 years ago
I have always loved Lifeline as a card, and try to look for ways to abuse it. The more I play with it, the more I think it will likely not survive a turn around the table. But hey, that's ok, I'll have made my point by then!
I just threw this together off the top my head, and I didn't look up any other Jarad decks, so I hope I'm kind of on the right path here.
Some additions I thought of overnight was Weatherseed Treefolk, who recurs himself nicely, and possibly Gleancrawler, how is NRftW on a stick essentially. I just have to find spots for them.
3 years ago
Rellos is correct. You want something closer to 40 creatures if you are going to utilize Myael effectivel without scry effects. Look at Mycoid Shepherd, Paleoloth, Meglonoth, Woolly Thoctar, Angel of Serenity, Bogardan Hellkite, Caller of the Pack, Nylea, God of the Hunt, Surrak, the Hunt Caller, Enlisted Wurm, Cliffrunner Behemoth, Deadbridge Goliath, Avatar of Might, Kodama of the North Tree, Myojin of Life's Web, Panglacial Wurm, Silvos, Rogue Elemental, Spearbreaker Behemoth, Weatherseed Treefolk, and Heliod, God of the Sun.
3 years ago
I love obscure tribal decks, but I feel like you could do better with some of the Treefolk - Battlewand Oak and Cloudcrown Oak, and to a lesser extent Black Poplar Shaman and Weed-Pruner Poplar, seem underwhelming. I'm not saying they're bad in a tribal deck that produces gobs of mana, but there's a couple more powerful treefolk I'd recommend putting in instead. Nemata, Grove Guardian, Ghoultree, Fendeep Summoner, Weatherseed Treefolk, and Ebony Treefolk would all be worth consideration. You could also cut some of the noncreatures to add these to increase the chances of Colfenor proccing. Finally, I really think your deck needs boardwipe of some kind - it's a necessity in Commander to have at least one or two outs in case someone is doing something more ridiculous than you are. Languish is good because it's somewhat one-sided for you, but you probably want something like Life's Finale and/or Nevinyrral's Disk as well. +1 from me!