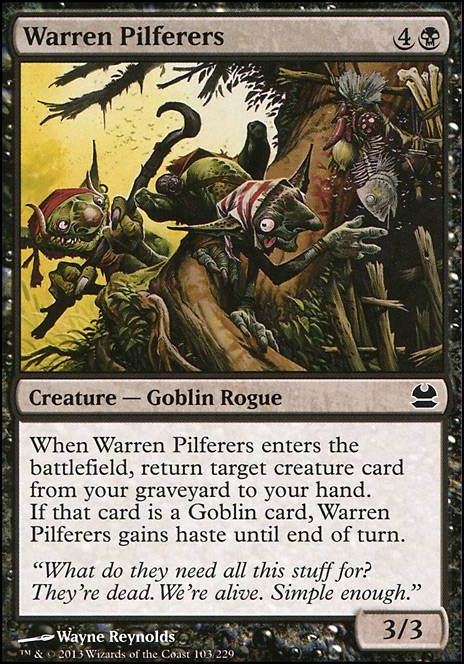 Legality
| | |
| --- | --- |
| Format | Legality |
| Pre-release | Legal |
| Noble | Legal |
| Leviathan | Legal |
| Magic Duels | Legal |
| Canadian Highlander | Legal |
| Vintage | Legal |
| Modern | Legal |
| Penny Dreadful | Legal |
| Casual | Legal |
| Pauper EDH | Legal |
| Vanguard | Legal |
| Legacy | Legal |
| Archenemy | Legal |
| Planechase | Legal |
| Duel Commander | Legal |
| Unformat | Legal |
| Pauper | Legal |
| Commander / EDH | Legal |
Warren Pilferers
Creature — Goblin Rogue
When Warren Pilferers enters the battlefield, return target creature card from your graveyard to your hand. If that card is a Goblin card, Warren Pilferers gains haste until end of turn.
Warren Pilferers Discussion
2 weeks ago
Thanks for your comment :)
Removal: I'm about to play Ghastly Demise as soon as it arrives :D
Serrated Arrows is MVP most of the time, cause in my group there are generals like Mistmeadow Witch, Baleful Strix, Maverick Thopterist and lots of x/1 guys. Pure advantage.
Vendetta's life loss hurts sometimes, in some games I lose 10+ life by myself to: Crypt Rats, Sign in Blood like effects etc. so it didn't make the cut.
I lack removal for black creatures (maybe it's just what I feel after playing with Fleshbag Marauder for some time), maybe I'll play Ghastly Demise instead of Chill to the Bone, but I'll need to test it.
Discard: Tasigur's Cruelty is good because you can play it for like 1 mana and it's ok to get 1 or 2 cards, Unburden has cycling, but Unnerve is so bad in late-game, 4 mana is too much for 1 or 2 cards, besides it's always getting countered in my heavy blue group and you can always try to sneak play 1 mana Tasigur's Cruelty and don't lose a turn even if it's countered. Also we are playing 2HG, totem, or sometimes even 1vs1, cause my guys are dying after 1 hour of FFA when nothing's going on at some moments so cheap spells are favored cause the tempo is much more important there.
Vulturous Aven seems great, I'm definitely going to try it.
For Urborg Uprising I'm not sure if I'm ever gonna use it to get 2 cards back xd I'm a little low on creatures, and Gravedigger - Cadaver Imp synergy, when you get back one with another is so good, that I tried to also play Warren Pilferers but it was too expensive. Needs some testing.
Armillary Sphere is sooooo good it's staying for sure.
Ramp spells: I was wondering about bigger ones like Sisay's Ring but I don't like that they are doing nothing but getting destroyed. Small mana rocks were cut long ago because of that. The ones I'm playing are the best of the best, but I'm gonna think about getiing more.
It's hard at this point to cut anything and that's my biggest problem, Cannibalize and Ashes to Ashes are first on the list but haven't played them long enough so I'm not sure yet.
Also I've been wondering on playing regular swamps over Terramorphic Expanse, Evolving Wilds because shuffling isn't very powerful, and I need those swamps, so decreasing the chances for drawing lands isn't very good. What do you think? Haunted Fengraf is also likely to be cut cause I used it maybe 2 times this year and i need black/swamps to hit as hard as it's possible and regain as much life as I can.