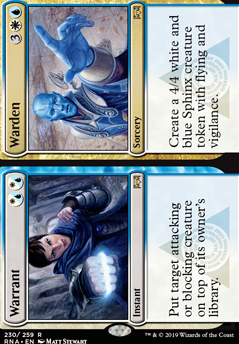 Legality
| | |
| --- | --- |
| Format | Legality |
| Pre-release | Legal |
| Tiny Leaders | Legal |
| Magic Duels | Legal |
| Canadian Highlander | Legal |
| Vintage | Legal |
| Modern | Legal |
| Arena | Legal |
| Standard | Legal |
| Leviathan | Legal |
| Legacy | Legal |
| Brawl | Legal |
| 1v1 Commander | Legal |
| Duel Commander | Legal |
| Unformat | Legal |
| Casual | Legal |
| Commander / EDH | Legal |
Tokens
Warrant / Warden
Instant
Warrant
Put target attacking or blocking creature on top of its owner's library.
---
Sorcery
Warden
Create a 4/4 white and blue Sphinx creature token with flying and vigilance.
Warrant / Warden Discussion
1 month ago
I like the subtle changes I'm seeing in the maindeck. I'd personally go -1 Mirror Image +1 Knight of Autumn , primarily to make sure you don't flood yourself with clones with nothing to use them on. Three clones should be enough to generate overwhelming value in this deck. I also might go -1 Meteor Golem +1 Pelakka Wurm ; the seven life, game-dominating body, and card-on-death are probably going to be better against most everything except Teferi. I also really want to find room for Biogenic Ooze in this deck, since Militia Bugler can pull it, much like Trostani Discordant . I don't know if it's better than Mesmerizing Benthid , though, so I'm not sure how it would fit.
Your sideboard looks pretty good. Vannifar decks are likely to out-grind the popular BGu Value decks, so you probably don't need much in your sideboard for those matches. If you can fit in a single The Immortal Sun , that might be worthwhile. I was going to suggest Shield Mare if it hadn't made it in; it's perfect for what this deck wants to be doing against aggro (especially MonoRed). Kraul Harpooner is also an excellent choice to keep you in the game against UR Drakes and MonoBlue. Incubation / Incongruity is nice emergency removal against giant flying creatures and helps dig for other sideboard answers otherwise, so it's reasonable, though I'd take the opportunity to go -1 Incubation / Incongruity +1 The Immortal Sun just for the occasional free wins.
Here are my two highest-priority suggested changes:
-3 Make a Stand ; +3 Negate
-3 Reclamation Sage ; +1 Lyra Dawnbringer , +2 Tithe Taker
Negate beats every spell that Make a Stand beats and more: Seal Away , Ixalan's Binding , Vraska's Contempt , Teferi, and most importantly Settle the Wreckage and Find / Finality . You lose the ability to swing creature combat in your favor, but in general you're favored during board stalls anyways. Negate will help you beat Wilderness Reclamation decks, burn decks, and Gates decks as well.
With seven copies between Knight of Autumn and Mirror Image , you've got plenty of maindeck ability to deal with Wilderness Reclamation , Experimental Frenzy , and Guild Summit ; additional artifact/enchantment removal is unnecessary (especially if Negate is in the board too). Rather, it might be better to have access to the swingiest white creature in the format - Lyra Dawnbringer - against aggro decks and Tithe Taker to harass and pressure decks that want to operate on your turn. Honestly, I'd rather see Tithe Taker in the main, but it's a fine sideboard card too. Other options in that open 2x slot are Seal Away as hard removal and Warrant / Warden as a flexible answer/threat.
Vivien Reid is also usually present in green lists somewhere in the 75. I'm not sure she's necessary here, but it's a card to always remember. Another card you have access to is Entrancing Melody , which is great for stealing Hydroid Krasis and is effectively a removal spell that also gives you pod fodder. River's Rebuke and Settle the Wreckage are also available in your colors and can be potential blowouts. Just options to keep in mind.

Finally, looking back over the list, you may actually need more mana sources than 23 lands + 4 Incubation Druid . 23 lands means that you're only 58% likely to make your fourth land drop on your fourth turn. If you're missing Incubation Druid and Prime Speaker Vannifar (or if they die), you can struggle to make it to your heavy hitters. Most Vannifar lists I've seen have roughly the same curve as your deck and are running 23-24 lands + 8-13 mana dorks. Not that this is necessarily correct, but the lists appeared to be performing well with that combination.
1 month ago
A couple of ideas for you, hopefully nothing too major!
First off, I want to address the SB choices. You are in Esper colors, which is full of plenty of extra options to keep the deck flexible. Right now, you seem very focused on creatures, which is fine, but I feel that makes the deck far too narrow... here's a few options:
Negate --> What's a Teffi anyway, I know I don't want to see him... Also clean answers to Settle or any other sweepers going on.
Disdainful Stroke --> See above, but add in creatures (I'm looking at you, Hydroid Krasis !!)
Smothering Tithe --> This one is eh... but it might help in the control matches.
Depose / Deploy --> I have been EXTREMELY impressed by this card in playtesting so far, but this one is also somewhat opinionated.
Warrant / Warden --> See above.
Unbreakable Formation --> BONKERS
Ethereal Absolution --> I play tokens... be prepared...
Settle the Wreckage --> Lopsided board wipe, kinda. Can be useful if your meta is full or aggro.
Maindeck
Your deck seems to be focused on early disruption and overall being annoying. You have a lot of interaction, so here's a few ideas for the main:
Hero of Precinct One --> Only if you add in a few more multi-colored spells, but I love this card.
Kitesail Freebooter --> I know it is in your sideboard, but since the rest of the deck is so disruptive it may be worth a thought.
Basilica Bell-Haunt --> What's mono-red anyway...
Seraph of the Scales --> Significantly more expensive, but, she good. at least, so I've heard.
Several of the cards can be shifted around, for example Kitesail Freebooter can probably just replace Ministrant of Obligation in the main, even if for only 2 or 3 copies. I think any of the split cards I put for the sideboard could go in the main as well, Plaguecrafter can shift to the SB (meta dependent). I also feel that Chemister's Insight doesn't have a home in this list, since you want to out-value and disrupt rather than win through card advantage in a design like this.
Have you thought about adding in a planeswalker anywhere? Both new walkers I feel a soft spot for in my heart, I even added Baby Dovin to my tokens list, (which is now bant) and I just have a soft spot for new Kaya as well.
These are all just opinions, but if you have any questions about my suggestions or want some help let me know!
Warrant / Warden occurrence in decks from the last year
Standard:
All decks: 0.1%