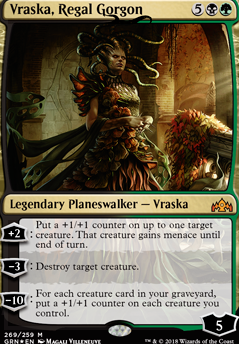 Legality
| | |
| --- | --- |
| Format | Legality |
| Pre-release | Legal |
| Tiny Leaders | Legal |
| Custom | Legal |
| Magic Duels | Legal |
| Canadian Highlander | Legal |
| Vintage | Legal |
| Modern | Legal |
| Arena | Legal |
| Standard | Legal |
| Leviathan | Legal |
| Legacy | Legal |
| Brawl | Legal |
| 1v1 Commander | Legal |
| Duel Commander | Legal |
| Oathbreaker | Legal |
| Unformat | Legal |
| Casual | Legal |
| Commander / EDH | Legal |
Vraska, Regal Gorgon
Legendary Planeswalker — Vraska
+2: Put a +1/+1 counter on up to one target creature. That creature gains menace until end of turn.
-3: Destroy target creature.
-10: For each creature card in your graveyard, put a +1/+1 counter on each creature you control.
Vraska, Regal Gorgon Discussion
7 months ago
This deck looks pretty good. Similar to my own Vultron-ish Skullbriar deck.
Yahenni, Undying Partisan is another hasty +1 counter creature that has built-in protection.
Suspicious Bookcase , Canopy Cover , and Prowler's Helm are other ways to get Skullbriar and friends through enemy defenses.
Nim Deathmantle , Journey to Eternity Flip, Supernatural Stamina , Stitch Together and Unearth are great graveyard recursions (especially because Skullbriar keeps counters even in the graveyard).
Eternal Thirst , Feast on the Fallen and Predatory Hunger might be good +1 counter editions depending on your group's meta.
If you can afford it, Doubling Season doesn't help your opponents like Primal Vigor does and it has the same effect.
Vraska, Regal Gorgon might have a bit higher CMC, but I think fits your deck a little more than your current Vraska.
Assassin's Trophy , Windgrace's Judgment and Beast Within are good removal spells in Golgari colors.
Withstand Death , Rush of Vitality , Heroic Intervention and Destined / Lead are good protection cards
Finally, Sword of Vengeance , Pelt Collector , Lightning Greaves , and Alpha Authority are just overall good cards that you might find helpful in your deck.
No data for this card yet.