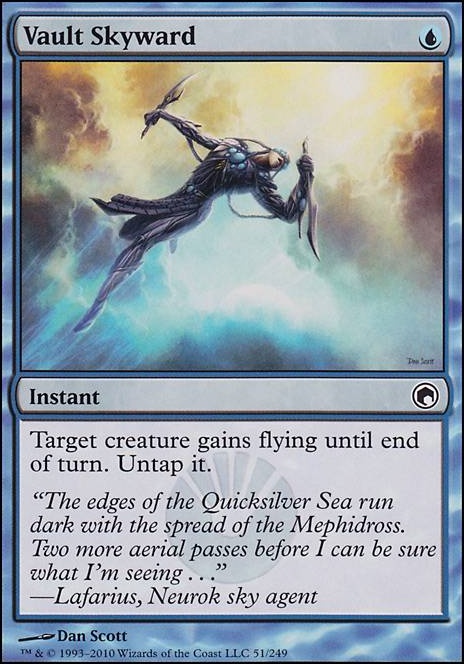 Legality
| | |
| --- | --- |
| Format | Legality |
| Tiny Leaders | Legal |
| Noble | Legal |
| Leviathan | Legal |
| Custom | Legal |
| Magic Duels | Legal |
| Canadian Highlander | Legal |
| Vintage | Legal |
| Modern | Legal |
| Penny Dreadful | Legal |
| Casual | Legal |
| Pauper EDH | Legal |
| Vanguard | Legal |
| Legacy | Legal |
| Archenemy | Legal |
| Planechase | Legal |
| 1v1 Commander | Legal |
| Duel Commander | Legal |
| Oathbreaker | Legal |
| Unformat | Legal |
| Pauper | Legal |
| Commander / EDH | Legal |
Vault Skyward
Instant
Target creature gains flying until end of turn. Untap it.
Vault Skyward Discussion
2 years ago
Many of the instants you have will not pack enough punch to make them worth the slot. You want to focus on things you can re-use. For example, Vault Skyward looks like a good combat trick, but most of the time, people will be prepared for flyers. Better is Cobbled Wings or Fleetfeather Sandals, which last more than one turn, can be re-used if the creature dies, and can be reassigned to a blocking creature after the attack. Better still is Archetype of Imagination, that makes all your creatures fly and prevents your opponents' fliers from blocking. Or you can use something like Shadow Rift or something stratight up unblockable (Whispersilk Cloak) that will be more likely to get the damage through. If you are concerned about blocking fliers, Spidersilk Armor is a good bet, and affects your whole team on a permanent basis. For Commander, you're playing 4 other people. Each card needs to pack a big punch, so cards like Blustersquall & Cyclonic Rift are better because you can also cast them for their Overload effect.
Drop: Peema Outrider, Jolt, Cerulean Wisps, Noxious Revival, Vault Skyward, Triton Tactics, Reclaim, Ornamental Courage, Aerial Formation, Aquastrand Spider, Growth Spasm, Kozilek's Predator, Nest Invader, Keeper of Progenitus, Blisterpod, Parallel Lives, Gilder Bairn (You need to have ways to tap it, and I think it's too much work for the effect), Sasaya, Orochi Ascendant, Gnarlid Pack, Coiling Oracle, Transguild Promenade, 1x Forest, Scourge of Skola Vale
Add: Cobbled Wings, Elixir of Immortality, Spidersilk Armor, Viral Drake, Quest for Renewal, Overwhelming Stampede, Rogue's Passage
It's not a final cut, but I think you'll be within 5 or so of 100. At that point, you'll really need to look at your creatures and decide which ones you really want, and which ones are maybe second string players. Once you have a list and play a little, you'll know what you're weak to (do you see a lot of mill? Do you need more graveyard recursion? More flying?), and you can adjust from there. Good luck!
3 years ago
...Now, I usually win T5 and as early as T3. My opponent's life total isn't a consideration because one Tree of Redemption or Tree of Perdition (or Kin-Tree Invocation) is a two-turn clock or lethal with Spellskite on board. Because this deck interacts positively with the toughness of the trees (Miren, the Moaning Well, Kin-Tree Invocation, Assault Formation), I don't want to reduce it. The trees' abilities don't feature because tapping them is too slow. I did, however, test Vault Skyward which was a rad T3 kill but, again, way too inconsistent and unnecessary/dead draw mid to late game.
That's why I don't include Dismember. Also, Abrupt Decay is value and a mainboard answer to most everything.
No data for this card yet.