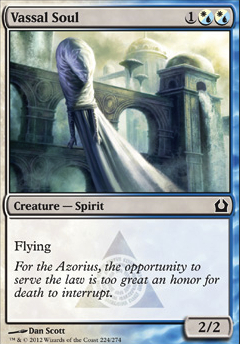 Vassal Soul
Creature — Spirit
Flying
Browse Alters
View at Gatherer
Legality
| | |
| --- | --- |
| Format | Legality |
| Limited | Legal |
| Pioneer | Legal |
| Pauper | Legal |
| Block Constructed | Legal |
| Highlander | Legal |
| 1v1 Commander | Legal |
| Modern | Legal |
| Duel Commander | Legal |
| 2019-10-04 | Legal |
| Legacy | Legal |
| Leviathan | Legal |
| Vintage | Legal |
| Unformat | Legal |
| Tiny Leaders | Legal |
| Oathbreaker | Legal |
| Canadian Highlander | Legal |
| Casual | Legal |
| Pauper EDH | Legal |
| Commander / EDH | Legal |
Latest Decks as Commander
Vassal Soul Discussion
3 years ago
3 to 2.0
Out: Faerie Impostor, Hussar Patrol, Inaction Injunction, Judge's Familiar, Paladin of Prahv, Protect / Serve, Search Warrant, Skyscribing, Steeling Stance, Tower Drake, Vassal Soul, Vision Skeins, Writ of Passage.
In: Blazing Archon, Suppression Field, Ghostway, Flickerform, Cloudstone Curio, Tidespout Tyrant, Cancel, Mark of Eviction, Peel from Reality, Jace, Architect of Thought, Repeal, Diluvian Primordial, Luminate Primordial.
3 years ago
Tuning Notes:
4 years ago
I did some more digging. Here is a list of all blue/white spirits that Steel of the Godhead could apply to. Vassal Soul doesn't seem worth running, and Swans of Bryn Argoll is mediocre in a deck that can't abuse its ability (e.g. you don't want to turn the enemy's Lightning Bolt into an Ancestral Recall). Godhead of Awe also seems not-useful.
Sovereigns of Lost Alara seems useful, but it would do better to fetch Eldrazi Conscription than the Steel, making it a questionable reason to include the Steel.
Non-spirit UW creatures that are notable include:
---
I think that you will struggle to find a deck where the majority of creatures want to use the Steel, leaving it as a dead draw and a card that you want to tutor up (off of effects like Tallowisp etc).
Other cards that go into an enchantment theme (but you have to be careful balancing the number of spirits in the deck if you want to use Tallowisp as the main engine) include:
As another note, you may want to consider Honor of the Pure over Favorable Winds - almost all of your creatures are white. You have two "Misses", where the Winds has ten currently. I'm not sure that either has enough synergy to deserve to be in the deck, but Honor of the Pure will serve you better than Favorable Winds.
You currently run 6 auras that are not removal. While not inherently terrible, you will end up with hands clogged with them when you would rather have creatures. If you can, I would try and cut down on some of them and move them to the sideboard. The problem when designing a "toolbox" is to try and solve every problem. It's best to solve most problems, and leave a few one-ofs in the sideboard for those niche cases when you need the other solutions. If your game plan ends up being "Play Geist of Saint Traft, load it with Auras and win", this becomes slightly more excusable (Geist is much harder to kill in response to the aura being played), but it's still a rough spot to be in.
Finally, I would include at least one totem armour in the deck (likely Hyena Umbra), because your Drogskol Captain will always want protecting whenever it is out.
---
Some other cards to consider:
I am currently considering putting Eidolon into my own deck in place of Stormbound Geist, as I find an early blocker would often be better than the resilience that the Geist offers. Doing this would force me to switch from Favorable Winds to Honor of the Pure, and leave my Dungeon Geists unbuffed. In the new set, we are going to see a new 1 CMC spirit - Topplegeist (link as not yet on Tappedout).
---
As such, I can see five ways to go with the deck:
At the moment it seems like you are trying to do most of these simultaneously, and not managing to do any of them well.