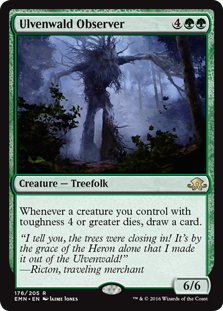 Legality
| | |
| --- | --- |
| Format | Legality |
| 1v1 Commander | Legal |
| Frontier | Legal |
| Vintage | Legal |
| Modern | Legal |
| Casual | Legal |
| Legacy | Legal |
| Duel Commander | Legal |
| Unformat | Legal |
| Pauper | Legal |
| Commander / EDH | Legal |
Ulvenwald Observer
Creature — Treefolk
Whenever a creature you control with toughness 4 or greater dies, draw a card.
Have (20)

W

o

l

f

e

b

l

a

d

e

e

l

i

t

e

, twistedmage , bakeraj4 ,

j

h

T

h

e

M

a

n

9

9

,

m

a

z

r

i

m

t

a

i

m

,

T

h

e

R

e

a

l

P

e

a

c

h

e

s

, ZombieFood , YossarianLives ,

W

o

l

f

n

i

n

j

a

,

a

c

b

o

o

s

t

e

r

,

D

r

_

J

a

y

,

N

e

m

e

s

i

s

,

T

h

i

s

I

s

B

u

l

l

s

h

i

t

, Falte ,

R

e

g

u

l

u

s

1

0

1

0

, mziter501 , philktoken8998 , KB2187 ,

G

o

l

d

G

h

o

s

t

0

1

2

,

P

o

p

t

a

r

t

z

9

5

Want (0)
Ulvenwald Observer Discussion
1 month ago
Upptckte att tappedout inte tillter svenska bokstver, men fuck it
ADDITIONS
Farhaven Elf - en smre Wood Elves men fortfarande rtt s bra

Whitemane Lion - om du gillar att rampa med Greenbelt Rampager s finns den hr jkeln, och flash innebr att du kan gra det precis innan det blir din tur (t.ex. hlla uppe mana fr Beast Within men om inget farligt behvde removas s kan du rampa p instant speed), men utan din commander r det ett rtt s dtt kort om du inte har ngon annan hftig ETB creature p bordet som du kan returna och recasta

Stonecloaker - som Whitemane Lion fast med inbyggd graveyard hate vilket gr honom mer relevant ven utan din commander

Ramunap Excavator - bra med Krosan Verge, Myriad Landscape osv. och mot mill/discard, men r annars inte s relevant

Solemn Simulacrum - vldigt bra att ha men lite trkig i en grn lek som inte bygger runt sacrifice/reanimation/artifacts

Elemental Bond - effektiv card draw nr man spelar med stora dudes

Temur Sabertooth - lter dig runka med extra ETBs och galen mngd ramp, men r vldigt irrelevant i situationer dr du behver ngot med mer impact

Mirri, Weatherlight Duelist - duglig combat buff, duglig pillowfort

Primordial Hydra - vill du ha en spelbar manadump hydra utver Hydra Broodmaster s r den r en ordentlig must-answer nr man castar den fr X>=5

Tireless Tracker - att den blir strre r inte s relevant men det r riktigt bra landfall, dock att behva betala 2 fr card draw r lite meckigt men bra om du ofta knner att du fr slut p gas

Emeria Angel - landfall som kanske inte r helt smst, men inte srskilt impactful heller

Woodland Bellower - om du har kort som Reclamation Sage, Eternal Witness och Wood Elves s r det hr ett ganska mysigt toolbox-kort

Sylvan Reclamation - vldigt bra removal och basic landcycling kan rdda dliga starthnder, men cmc5 r rtt s dyrt

Return to Dust - ocks bra removal men jag fredrar Sylvan Reclamation, denna r ett mana billigare men man vill oftast lgga den p sorcery speed

Oblation - ganska stor downside att ge motstndaren card draw, men jag gillar mjligheten att lgga det p en egen permanent som hller p att bli removad eller p en token fr lite emergency card draw

Momentous Fall - instant speed r det viktiga hr, kan lggas som svar p att ngon frsker remova en fet creature s fr du fet card draw istllet, eller bara lggas p sin tur nr man behver grva efter ett svar och olikt Rishkar's Expertise & co s kan man inte dda creaturen som svar p att du frsker dra kort, fr sacrifice r del av kostnaden (dock kan du counterspellas och d har du varken din creature eller kort)

Seasons Past - ungefr en till Praetor's Counsel fast billigare, det r inte allt fr ofta man behver returna mer n ett kort per cmc och recursion av flera kort kan vara vrt att spela mer n en kopia av

Traverse the Outlands - relativt billig big ramp men krver board presence och din strsta creature kanske blir removad som svar

Hour of Revelation, Planar Cleansing och Akroma's Vengeance - jag gillar dessa board wipes vldigt mycket, extra mycket nr din commander kan ta smllen utan att bry sig, och nr din lek r creature heavy s pverkar dessa dig nstan lika mycket som en Wrath of God medan dina motstndare fr ta massiv skit

Day of Judgment - en extra kopia av Wrath of God

Explosive Vegetation - bra ramp, men inte p samma niv som Cultivate och Kodama's Reach, och inte heller creature synergy som med Wood Elves och Farhaven Elf

Lightning Greaves och Swiftfoot Boots - du har en duglig mngd creatures som vill sl direkt och/eller vill bli skyddade, men det r ltt hnt att du fr slut p gas med kort som dessa

Seer's Sundial - en lite smre men lite tligare Tireless Tracker, n en gng bra om du fr slut p gas ofta

Primeval Bounty - inte srskilt bra fr 6 mana men mysig mngd token spam och lifegain om du gillar det

True Conviction - kostar mycket men lifeswingen man kan f r absurd

Mirari's Wake - big mana becomes even bigger, skulle inte sga att den r bttre n Zendikar Resurgent i din lek men man kan alltid ha en extra av samma effekt

Evolutionary Leap - bra stt att uppgradera mana dorks och dylikt till pseudo-card draw, men r inte alls lika bra som riktig card draw

Garruk, Primal Hunter - primra syftet r att lgga -3 fr en lite smre Rishkar's Expertise, men man kan ocks vara modig och spawna tokens och frska lta honom verleva

Temple of Plenty - helt okej dual land, scry ska inte underskattas men den kommer nd in tapped och gr inte att fetcha

Homeward Path, Scavenger Grounds, Ghost Quarter och Tectonic Edge - det r bra att ha svar pklistrat p lnder som kommer in untapped, men man vill inte ha fr mnga lnder som gr colorless (och som inte kan fetchas)

Blighted Woodland - en bttre/smre Myriad Landscape om du gillar effekten, denna kan man anvnda fr mana direkt men att det kostar totalt 5 fr att rampa med den r dyrt, speciellt nr du vill lgga din commander nr du har 5 mana

Emeria, The Sky Ruin - ett vldigt lngsamt och mysigt kort men som du kan f igng rtt s tidigt med din commander, du har dock ingen annan sacrifice/reanimation synergy s ibland har den inget att returna

Eventuellt fler basics - ven om din commander rampar och du har mycket annan ramp s mste man kunna behlla bra hnder och ha rd att lgga sina kort speciellt med en s hg average cmc, det r rekommenderat att sikta p 45 reliable mana sources (lnder + unconditional ramp som inte kostar 4+)
CUTS
4 months ago
Alright, understandable. The way I look at any deck is I give myself a set number of cards for each type or what each card offers. So since you want Treefolk/fatty bootied plants, I'd go with... 25 "theme" cards. 35 lands is my go to which would put you at 60 cards with the rest being support/fill. Of those remaining 40 I'd go, 5 wipes 5 spot removal, 10 draw, 10 ramp, and 10 general support. Of course you can tweak those numbers however, but it's good to have a basis. Once you start doing that you might realize you're going total overkill on one category and swapping cards around isn't as hard as it was (sometimes it is harder though lol).
All that said, a rough list I'd go with is something like this (again this is your deck and by all means take this with a grain of salt and/or ignore it if you see fit):
Regardless of what you do with any/all of that, good luck and hope you enjoy playing your deck!
5 months ago
Changelog:
-Disowned Ancestor, Birds of Paradise, Primal Druid, Druid of the Cowl.
+Fruit of the First Tree, Ulvenwald Observer, Aetherflux Reservoir, Ayli, Eternal Pilgrim.
After playing tonight, I found there is not much card draw. I'm fresh out of Phyrexian Arenas, so the Observer is the next best thing I have.I also found I was on over 100 life for most of the night, so Ayli and Reservoir get a trial.
7 months ago
Love the deck name! Very befitting. My Doran build I'm working on is vastly different, but I like seeing a different deck like this for comparison. I'm thinking of trying to utilize the treefolk tribal. That said, I have a lot of non-treefolk tribal cards that aren't included here too. Here are some suggestions to give you food for thought:
Birds of Paradise, Selvala, Explorer Returned, Oketra the True, Vhati il-Dal, Vizier of the Menagerie, Seedborn Muse, Pontiff of Blight, Ulvenwald Observer, Angel of Serenity, Craterhoof Behemoth, Aven Warcraft, Foul Renewal, Eland Umbra, Spidersilk Armor, Mirari's Wake, Sight of the Scalelords and Volrath's Stronghold.
I second the suggestions for Lifecrafter's Bestiary, Abzan Beastmaster and Defense of the Heart. Survival of the Fittest also couldn't hurt. Burgeoning is another strong suggestion, gonna add that to my list of potential additions to my deck.
I need to thank you for the inspiration for me to consider Arachnogenesis and Pernicious Deed as well!
My list is much more creature-oriented, but I think Doran ought to be a creature deck first, so maybe scaling back a little of the targeted removal would be a good idea. However, I don't know who you're up against either, so perhaps you feel you need it worse than I do.
One last thing, while Eternal Witness doesn't fit Doran's little power-swap, I think it's strictly better than Skullwinder in any given situation. But that's my preference.
Load more