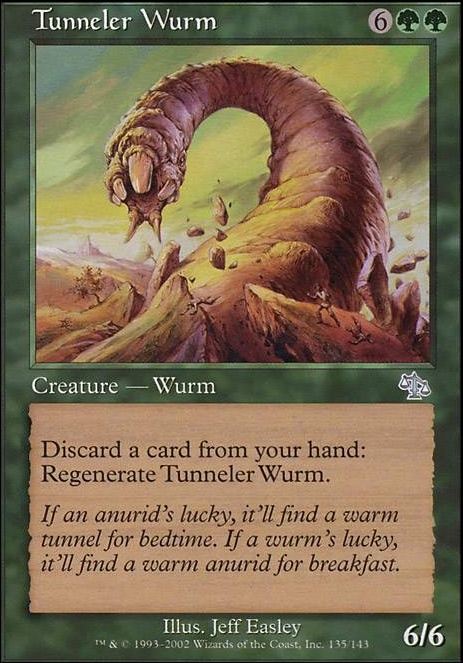 Legality
| | |
| --- | --- |
| Format | Legality |
| Noble | Legal |
| Leviathan | Legal |
| Magic Duels | Legal |
| Canadian Highlander | Legal |
| Vintage | Legal |
| Penny Dreadful | Legal |
| Vanguard | Legal |
| Legacy | Legal |
| Archenemy | Legal |
| Planechase | Legal |
| Duel Commander | Legal |
| Unformat | Legal |
| Casual | Legal |
| Commander / EDH | Legal |
Tunneler Wurm
Creature — Wurm
Discard a card: Regenerate Tunneler Wurm.
Tunneler Wurm Discussion
2 years ago
I have mulled over this for a while and I really cannot see how Abundance + Undercity Informer mill your whole library the way Dakmor Salvage + The Gitrog Monster + a discard outlet do. Could you walk me through it?
The list I am am working on only has the Gitrog + Dakmor + Discard outlet way to mill yourself but
The Gitrog Monster is your commander so finding it is a non-issue.
Dakmor Salvage can be found with Sylvan Scrying, Realms Uncharted, Entomb, Expedition Map, Realm Seekers or any generic tutor. Also, if you have a discard outlet, you can discard any Dredge card, dredge it back next time you draw, and hope you flip at least one land when you do so you can keep going. It's not infinite, but hopefully you can eventually dredge you Dakmor Salvage and go truly infinite.
You have, I believe,
This deck can play 10 discard outlets, and I like the idea of playing all of them: Earsplitting Rats, Grotesque Hybrid, Murderer's Axe, Oblivion Crown, Oona's Prowler, Putrid Imp, Skirge Familiar, Trespasser il-Vec, Volrath's Dungeon and Wild Mongrel (ok, there is Tunneler Wurm, but that's too much even for me), and you cna use Regrowth and Eternal Witness to get them back if you dredge them, plus Demonic Tutor, Diabolic Tutor, Increasing Ambition, Beseech the Queen, Liliana Vess, etc. etc. to pick one up.
Even with only one combo, there is enough redundancy here that I don't think you need more.
Also worth mentioning: comboing off with Skirge Familiar does not truly give you infinite mana if you don't want to play an Ulamog, the Infinite Gyro (but I dislike that plan since then you can only play three discard outlets to go infinite in some measure - Wild Mongrel, Volrath's Dungeon and the familiar itself). You get realistically 40-50, sometimes less if you start dredging 6 over and over to find Dakmor Salvage. That's low enough where relying on Exsanguinate for the kill might be unwise - somebody at the table is playing Ayli, Eternal Pilgrim and suddenly you can't kill them? It's an issue.
Then again, my solution of Dread Defiler throwing a Lord of Extinction at them suffers from the same problem.
Maybe one could use a "Four Horsemen" approach i.e. we play the Ulamog, the Infinite Gyro and rely on the extra draws from Dakmor Salvage to eventually draw it and proceed to put the whole deck in the graveyard a few hundreds dredges in instead of a few dozens? That might be the way to go if we want to have the option to cast large Exsanguinates occasionally.